Starts May 19
by Osanna V.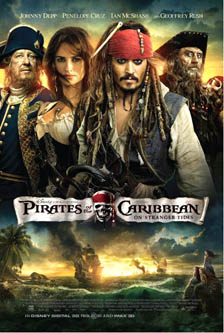 Johnny Depp and Geoffrey Rush return to their pirating ways, joined this time by Penelope Cruz and Ian McShane. Rob Marshall directs: the story and screenplay is written by Stuart Beattie and Jay Wolpert, inspired by the novel On Stranger Tides by Tim Powers.
Jack Sparrow (Depp) crosses paths with his old flame Angelica (Cruz) and gets caught up in an adventure to discover the fabled Fountain of Youth. The vessel he sails on belongs to the most feared pirate of all, Blackbeard (McShane), who, Angelica claims, is her father. In the meantime, Hector Barbossa (Rush) has lost the Black Pearl (a disaster Jack no doubt plans to amend in the next installment) and has become a privateer for the British King, who sends him off to give chase and overtake the Spaniards who are on the same quest to find the fountain. The young missionary, Philip Swift (Sam Claflin), and the mermaid Syrena (Astrid Bergès-Frisbey) – whose tears are a necessary ingredient for the magic to work – are caught up in the caper, which draws all the characters together for the grand finale, where one person has to be sacrificed for another to gain extended youth. The question is, who will die and who will be rejuvenated?
Pirates of the Caribbean– On Stranger Tides, is a frolicking 3D extravaganza that will keep fans of the genre thoroughly entertained. It introduces some historical facts – Blackbeard and his ship the Queen Anne's Revenge were real, as was Spanish explorer, Ponce de Leon's, search for the Fountain of Youth – but the story itself is pretty straight forward. Once again, it is Johnny Depp/Jack Sparrow and his very amusing and quirky expressions and ways that really make the film a delight.