Starts June 16
Original language: German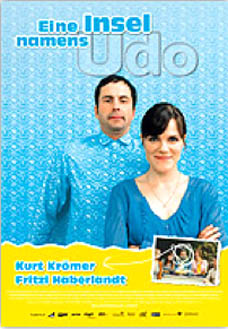 This German film, directed by Markus Sehr, stars Kurt Krömer,  Fritzi Haberlandt, Markus Klauk, Jan Gregor Kremp, Andreas Windhuis, Piet Fuchs, Rolf Berg and Anna Hilgedieck. The story is very original, strange and comical. Also, for overseas people eager to practice the German language it is a very entertaining film worth watching.

Udo (Krömer) is a happy man whom nobody can see, except when he chooses to make himself noticed. He had adapted to survive the dangers of everyday life and is not only happy with the situation, but it suits him perfectly as shop detective. That is, until one day, a hotel manager named Jazmin (Haberlandt) sees and befriends him; they get involved and he becomes suddenly visible to all the other people. Life is great with them but Udo, trying to make himself interesting, makes a mess of himself and the situation and falls out of grace with Jazmin. As a result he becomes invisible once again.  Udo undergoes acute lovesickness until the right words from a best friend put him on the right path.

Udo is like an octopus. Whether he wants it or not he blends into his surroundings - so much so that nobody sees him even if they stand right next to him. This happens to be perfect for his job as detective in a department store, for pilfering other people's goodies, and for living
unnoticed in the floor sample tent of the store's outdoor department; not so perfect for interacting with others or practicing social skills, - or if for once he wanted somebody to get out of his way, instead of him always trying to avoid bumping into them (who hasn't had one of those days?). He is OK with always having been 'different'; his invisibility has its plusses: unabashedly he can observe life around him, nobody is watching or judging him, nobody is making demands except for his boss who wants him to keep up his good work. His friend Amanda from the cosmetic department (Bernd Moss gives a funny and warm hearted performance as a transvestite) is the only one who knows his secret.
Then one day the unthinkable happens: a young woman not only can see him, she catches him helping himself to espresso and cake from unsuspecting patrons in the store bistro. Udo is thunderstruck. To find out if she can really see him all the time he follows Jasmin (Fritzi Haberlandt) into the changing room. A big slap in the face answers that. He invites her to dinner to make it up to her and thus starts a romance between two people who are both a little peculiar. Being in love and feeling loved makes Udo suddenly visible to all people. A new experience for him with pitfalls abound; the eternal bystander has to learn to take charge of his life, 'come off his island' and accept himself in order to be accepted.
Director: Markus Sehr
Script: Markus Sehr /Clemente Fernandez-Gil
With: Kurt Krömer, Fritzi Haberlandt, Bernd Moss