Starts June 23
Original language: English     
by Osanna V.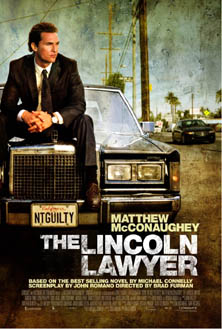 Brad Furman (The Take) directs an engrossing crime story starring Matthew McConaughey (Contact, Amistad, The Wedding Planner) and Ryan Phillippe (Gosford Park, Crash), supported by Marisa Tomei (My Cousin Vinnie, Anger Management) and William H. Macy (Fargo, Seabiscuit). The screenplay is by John Romano (Nights in Rodanthe) and is based on the book by Michael Connelly.
Mick Haller (McConaughey) is a slick LA defense lawyer, who runs his business from the back of a Lincoln Continental. Known for his questionable choice of clients, Mick doesn't enjoy the best of reputations; yet it seems that the wealthy, young Louis Roulet (Phillippe) recognizes his abilities and insists that he defend him against a charge of assault and battery. As the victim and accuser is a prostitute, it looks at first like the alleged attack was part of a simple set-up to get at Roulet's money. It's soon clear, however, that Roulet is not quite the innocent victim he claims to be. Caught by the oath of lawyer/client confidentiality, Haller has to find a way to do a brilliant job of defending his client, while also making sure he doesn't walk free.
With its punchy, frequently funny, dialogue and excellently cast performances, The Lincoln Lawyer offers a well-paced movie with interesting twists and turns. McConaughey pulls off Haller's multi-faceted character very smoothly, and Phillippe's transformation from convincing, blue-eyed innocence, to ruthless criminal is beautifully subtle. A good two hours of entertainment for lovers of the genre.