1/2
Starts June 30
Original Language: English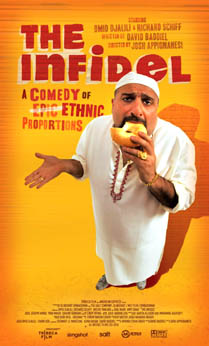 Mahmud Nasir (Djalili) is an easygoing family man, owner of a car service in London and - as he likes to think- a reasonably devout Muslim. That is until he finds an adoption agreement among the papers of his recently deceased mother and a visit to the not-too-cooperative registry office also confirms that he was born Jewish: 'Solly Shimshillewitz'. As if these revelations weren't enough, problems keep mounting.
His son (Shah) may only marry his bride if her fanatical-Muslim-cleric stepfather can be assured that the Nasirs are 'proper Muslims'. Clearly now is not the time to let his family in on the news. It will be Lenny, the Jewish cab driver and neighbor of Mahmud's late mother, who finds out first. When Mahmud arrives to clear his mother's flat he finds that Lenny (Schiff) has purposely blocked his way. Mahmud erupts in anger garnished in derogative terms; accused of being anti-Semitic, he defends himself blurting out the secret. Lenny helps track down his father, but Mr. Shimshillewitz is near death and a zealous Rabbi forbids Mahmud to visit him until he has learned more about Judaism. He begs Lenny – a secular Jew – for instructions. As time is of the essence, Mahmud has to learn on the fly, i.e., at a Bar Mitzvah. A treacherous training ground! Too much to prove to too many people at once - for no good reason at all. Mahmud studies the Bible and the Koran and finds more similarities than differences; sort of like between Lenny and him: one has a car service -the other is a cab driver – 'same difference'. To be prepared for any situation he literally wears two hats: a yarmulke under a kufi; naturally there is a disaster waiting to happen.
As Richard Schiff (Lenny) put it: "The script was dealing with a subject matter that deserves to be made fun with, namely the religious separation people impose on each other …". This is a serious and sensitive subject shown in an entertaining and funny way, moving effortlessly between serious, slapstick and stand-up comedy; especially delightful Omid Dajili and Richard Schiff in their exchanges.
Director: Josh Appignanesi
Script: David Baddiel
With: Omid Djalili, Richard Schiff, Amit Shah, Archie Panjabi