Starts June 30
Original language: English
by Birgit S.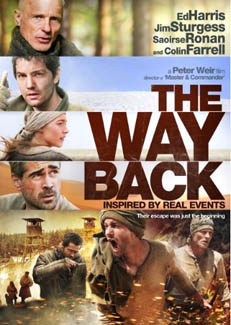 The story of prisoners escaping from a Soviet gulag in Siberia and trekking for 4,000 miles to freedom sounds fascinating. Australian filmmaker Peter Weir (a four-time Oscar® nominee and known for films like Gallipoli, The Year of Living Dangerously, Master and Commander) loosely based his script – written with Keith Clarke – on Slawomir Rawicz's book The Long Walk (1956). As doubts of Rawicz's "true story" have since been voiced, Weir comments: "I didn't want to make a biographical story of somebody who might be a fake. So I said: The walk happened; I'll just fictionalize it." He researched conditions at the gulags and received important details by someone who did this walk after reading Rawicz's book.
The young Polish soldier Janusz (Jim Sturgess), captured by Soviets, is sentenced to 20 years in Siberia for supposedly spying on the communist party. In the camp he meets prisoners from various walks of life. Among them is Mr. Smith (Ed Harris), a mysterious American who once lived in Moscow. There too is Valka (Colin Farrell), a brutal criminal solving any problems with his deadly knife. Janusz is horrified and plans his escape. Khabarov (Mark Strong) claims to know a way out. When the time comes, seven men – including Zoran (Dragos Bucur), Voss (Gustaf Skargard), Tomasz (Alexandru Potocean) and Kazik (Sebastian Urzendowsky) – escape into a blinding snowstorm. It is difficult to find any direction and only Janusz seems to know how to navigate, using a stick, a stone and the position of the sun. This automatically makes him the leader, keeping the men together. He also is a strong moral influence when they meet Irena (Saoirse Ronan), a teenage girl seeking their help. Heading south towards Mongolia, the group trudges along through changing seasons and beautifully photographed landscape (by Russell Boyd). We watch them struggling to survive by eating leaves, feasting on worms, killing a snake and "stealing" a cadaver from a pack of marauding wolves. In the endless dessert shimmering mirages are a mocking temptation. They suffer from heat and exhaustion. Who will survive this torture and reach communist-free India?
This story of endurance and survival in the wild - with an excellent team of actors - managed to captivate me for 130 minutes but I felt strangely uninvolved and was rarely touched. I would have liked to know more about each character.