½
Starts June 9
Original language: German Voiceover
By Marinell H.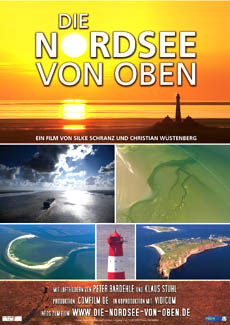 For the first time we see the North Sea coastline of Germany from a bird's perspective. From Emden in Ostfriesland, along the Elbe to Hamburg, then Kiel and to the most northern town in Germany, Westerland on the island of Sylt, Die Nordsee von oben is a pioneer German documentary exploring earth from this viewpoint. Directors Silke Schranz, and Christian Wüstenberg a genuine 'Nordlicht' from Otterndorf by Cuxhaven, was inspired to make this film after seeing striking aerial photographs of the North Sea and mudflats on an arte (French TV) series.
Never has a designer been superior to Mother Nature, attested by the spellbinding beauty we see here: Islands—with unspoilt sand beaches and dunes, where no autos are allowed or so remote mail is delivered twice a week, and those home to only birds or seals; storks nesting, wind farms, dike meadows kept short by herds of up to 800 sheep; container ships traveling and being loaded, light houses, bridges, cities and villages; three dogs pulling their fisherman master over the mudflats to his crab baskets, and a pilot delivering the newest theatrical films twice a week. Hamburg's oldest building is 110 kilometers down the Elbe, the Altes Land is the largest contiguous fruit orchard in Central Europe, and more ships pass through the Kiel Canal than the Panama and Suez canals combined. So much that surrounds us most know so little about.
Peter Bardehle and Klaus Stuhl's Cineflex camera, designed for the American CIA, is the best helicopter camera in the world, and gives us aerial views that, hmm, only birds have hitherto known. Some cuts, including with the ambitious musical variances, are abrupt yet a moderate north German voiceover guides, as we revel in wondrous sights, and learn more than we might have imagined. Bottomline? "Die Natur einfach Natur lassen" (Let Nature to her own devices).