Starts June 9
Original language: English
by Becky T.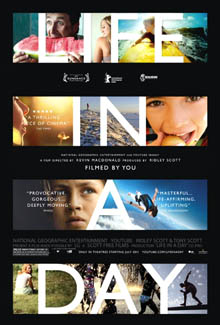 Director Kevin Macdonald asked for short films from anyone interested in filming himself or herself on July 24, 2010, from midnight to midnight. He considered the idea "a new way of incorporating the Internet, especially YouTube, into the media of film." In order to create some kind of "corporate identity" people were to tell "your story, what you are afraid of, and what's in your pockets."
He was overwhelmed with contributions and in the end, received 81,000 films totalling 4500 hours from 190 countries. The real hero is Editor Joe Walker and his team who, over seven months, sifted and selected 361 entries, totalling 95 minutes. They spliced the whole thing together into something actually quite interesting, even if much of anyone's life over one day is pretty banal: cooking, eating, yawning, sleeping, walking, working, suffering illnesses, having babies, and travelling. Perhaps the purpose was to show that, basically, we are all the same and perhaps just that simple fact: we are all human beings, is what makes it worth watching.
On July 24, 2010, there was a full moon; it was a Saturday. Not all was mundane, e.g., during a panic at the annual Love Parade in Duisburg, 19 people suffocated. It would be interesting to choose another day next year, although the results would probably be the same. In the meantime, YouTube now has 4,540,000,000 entries and I'll bet more than half are additional versions of someone's life on any one day. The film showed with success at Sundance, SXSW (Austin, Texas), and the Berlinale film festivals this year (2011).