Starts June 23
Original language: German
by Shelly S.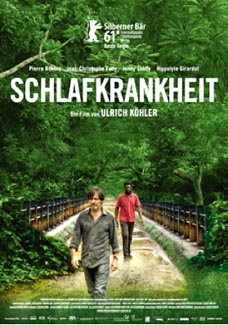 Winning the Silver Bear for best directing at the Berlin Film Festival was a nice beginning for director Ulrich Kohler. Schlafkrankheit (Sleeping Sickness) takes place in Cameron where a doctor and his wife have been working at a clinic for years against an illness that has been receiving financial support from Europe.
It is clear that Dr. Ebbo Velten (Pierre Bokma) and his wife Vera (Jenny Schilly) have fallen in love with Africa and find it difficult to leave. Their daughter (Maria Else Miller) has been living abroad and the wife sees that it is time to go home but the father is finding it difficult to say goodbye. He tries to explain his bond to Cameron to his daughter by telling a tale about a man who turned into a hippo and stayed there. As his wife and daughter are leaving for Germany, we see a split between Dr. Velten and his family. The story soon takes on a mysterious air where the film is dark and strange. The young doctor Monese (Francis Noukiatchom) from Paris has to examine the accounts of the clinic. Director Kohler plays with our visual perception. We assume the doctor from Paris will easily find his way in Cameron since his family is originally from Africa but we soon learn that he himself has never been there. Also, later we see that Dr. Velten has completely changed his life and is now integrated in the society. He has a new wife who is expecting a child.
The director's view of life in Africa comes directly from his past. He was a child who grew up there since his parents were also working in a clinic there. It was quite a shock to come back to Germany since the life style is so different. Even though he was German he felt like a foreigner. This is a film where the background information makes the movie more interesting. Somehow this knowledge is needed to understand the purpose of this film.