Starts June 23
Original language: English
by Marinell H.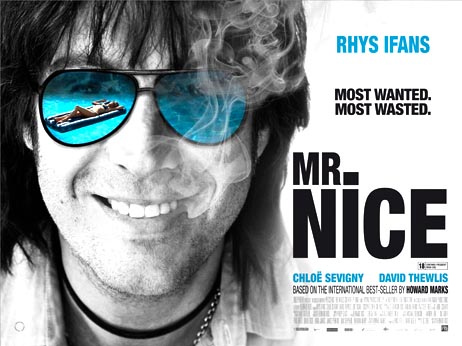 Welshman Howard Marks (Rhys Ifans) is cheeky, intelligent and studies at Oxford when he discovers a bizarre passageway that leads to a fellow student cum drugs dealer, who becomes a friend. Introduced to and enthusiastically embracing cannabis some years later, Marks helps out when problems develop bringing a shipment of hashish from Germany to England—with one fell swoop, he has found his professional calling. He meets beautiful Judy (Chloë Sevigny) and they inexplicably choose to hang out together indefinitely, procreate, and finally wed.
 
In the 1970's and '80s, international entrepreneur Marks has links with a diverse range of associates: madcap Provisional IRA Jim McCann (David Thewlis), schoolmate Hamilton McMillan (Christian McKay) who recruits him into MI6, American friend turned rat Ernie Combs (Crispin Glover), Pakistani Saleem Makik (Omid Djalili); Marks contacts supposedly included the CIA and the Mafia as well. Living the high-life with Judy and family in Mallorca, Spain, the USA's Drug Enforcement Administration apprehends them and they are extradited to Florida. Judy spends two years in prison, Marks seven years of two consecutive ten-fifteen year terms, and both are sent back to the U.K. following release from prison.
 
Director Bernard Rose bases his screenplay on Marks' autobiography of the same name, Mr. Nice (Donald Nice—just one of 43 aliases Marks used). Rose is his own cinematographer, is co-editor with Teresa Font, and Rose's viewpoint dips no further than his rose-colored glasses allow. Too bad, since some gritty realism may have energized and centered this rambling biopic. Instead we sit through two-hours of anecdotal snippets—Rose uses the voiceover technique to try to humanize Marks—generalizing lifestyles, drug smuggling, and a drug-hip culture that fails to make a point, or is worth remembering.