Starts July 21
Original language: English
by Marinell H.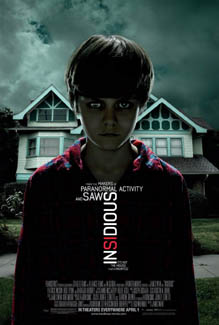 Insidious' mysterious opening title sequence promises more than the film delivers. As the Lamberts settle into a rambling old house, Renai (Rose Byrne) hears strange noises, finds things moved or missing, and oldest son Dalton (Ty Simpkins) confesses, "I don't like my room." Josh (Patrick Wilson) asks his wife to be patient. Then Dalton slips into an inexplicable coma, is hospitalized, and after three months and still in a coma is sent home. Renai hears whispering through baby Kelly's monitor, and Foster (Andrew Astor) says he is afraid of his older brother. The frightening weird events escalate, culminating with their moving once more to a smaller modern house.
Renai yet again encounters eerie images; Josh comes home from work to find a priest and his mother Lorraine (Barbara Hershey) comforting Renai. Lorraine suggests phoning clairvoyant Elise (Lin Shaye) and her ghost-buster-like accomplices Specs (Leigh Whannell) and Tucker (Angus Sampson) to oust the paranormal activity. Elise's diagnose is dismal—Dalton is a very accomplished astral-traveler and is lost in The Further; she orchestrates a séance-type setting to guide him home.
Director/writer James Wan (Saw) co-edits with Kirk M. Morri: the film's first third is ponderous; the second third gathers speed and climaxes with the séance-like episode; the last third gets lost in tricks and trivialities. Joseph Bishara's music preempts any genuine scariness, and Wan, with writing buddy Leigh Whannell's script, poked with inconsistencies, looses its edge in its attempt at realism. Why don't these guys watch Alfred Hitchcock's Psycho until they get it? Less is more.