Starts July 7
Original language: English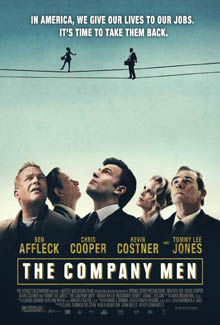 The legendary producer, director and screenwriter John Wells draws from experiences of American people and their misfortunes caused by a raging economic crisis in The Company Men.  Wells has received 242 Emmy nominations with 55 Emmy wins: "China Beach," "West Wing," "Third Watch" and "ER"-- plus a multitude of awards for his achievements in the television industry. His success is followed by a realistic understanding of the American culture. In addition, he reveres the past and is willing to pursue change or challenge ideals to affect the future. With an original script, written after the dot.com bust and a loosely based storyline of experiences from close relations, Wells' heartfelt drama showcases high-powered men and their families affected by corporate downsizing. The dilemma each executive contemplates and the meaning to his/her own life is delivered in the outstanding performances of Wells' all star cast: Tommy Lee Jones, Ben Affleck, Christ Cooper, Kevin Costner, Rosemarie DeWitt, Maria Bello and Craig T. Nelson.
 
A young executive, Bobby Walker (Affleck) is at the top of his game: loving his super high-paying job, proud of his adorable family, and living among the rich and famous. Essentially, he has it all and more. He is shocked with the news that his company is abruptly forced to downsize, but the trauma of the quick shakedown beginning with the corporation's founder Gene McClary (Jones), his right-hand man Phil Woodard (Cooper), Bobby and other top management is more than he and the company men can handle. In fact, they can't handle it and this fact begins the drama of what loyal company men do to survive. 
Bobby is confident that his age and set of skills will land him a job faster than his elder colleagues but none of them are prepared for the hiring freeze from the company's competitors. Confused with the new situation the men are forced to do a lot of soul searching, even contemplating the impact of drastic measures such as suicide. Bobby's brother-in-law, Jack Dolan (Costner), a known building contractor, offers him a job of hard labor. Unbeknown to Bobby, his brother-in-law can't afford to take him on but knows how to live through hard times and what is important in life. He lives by a code of ethics very different from Bobby. As a last resort to save his family from falling apart, Bobby takes the construction job and observes sacrificial living one takes to help another because that is what truly makes the world go around.