1/2
Starts July 21
Original language: English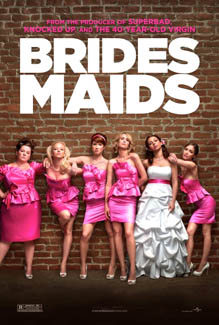 Raunchy and gasping for air funny; that is exactly how I would describe the new summer hit, Bridesmaids.  Poor Annie (Kristen Wiig, Saturday Night Live), in her thirties and her life is going down the drain. She has no fulfilling job, two painfully weird roommates, and a one-sided relationship that is going absolutely nowhere. What's a girl to do? Luckily, Annie's childhood friend, Lillian (Maya Rudolph, Saturday Night Live) breaks the wonderful news that she's engaged and she would love nothing more than to have Annie as her maid of honor. 
Surely this could be a turning point in Annie's life? Most definitely, just not in the fully positive aspect that one would think. Add a cast of socially awkward bridesmaids and you have the stuff comedies are made of! This bunch of women are all disasters waiting to happen, and believe me, they do! Perfect Helen, with her endless supply of money and threatening friendship with Lillian, desperate housewife Rita, naïve and sweet Becca, and loud-mouthed, rude Megan (Melissa McCarthy, Gilmore Girls) all add a sharp bite of wit and humour to the overall storyline. Quipped by many as being The Hangover for women, this is definitely one chick flick you do not want to miss (unless you are easily offended and have a weak stomach, then it's best to check out something else)!

What can I say; I laughed so hard I cried. Too bad I forgot my Kleenex. This film captures that crazy American sense of humor which I miss since living in Hamburg, Germany, for so long. The exception is that the film really goes to the extreme. One minute Annie is having amazing sex and the next minutes she's being thrown out of her rich boy friend's house and has to climb the security gate in order to get out. Suffering from a loser personality complex we see Annie struggling with how low can Annie fall? It began with her loss of her own business, to being kicked out of a joint apartment with her two roommates, and even more seems to go wrong when she has the chance of being the maid of honor at her best friend's wedding. Bridesmaids is a must see in English because I really can't imagine that the dubbed version could capture this insane American humor. So call all your girlfriends and set a date for the movies.