Starts August 11
Original language: French
by Thelma F.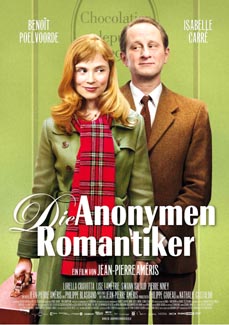 Angélique (Isabelle Carré) is wonderful at creating heavenly chocolates but she is painfully shy. To overcome her shyness she joins a self-help group called Emotional Persons Anonymous.  Jean-René (Benoit Poelvoorde) is so timid when with women that he goes to one-on-one sessions with a psychiatrist. Angélique applies for a job at the chocolate company owned by Jean-René and the lead up to the interview is the first of the many funny scenes in the movie. Angélique is so nervous that she has to rehearse for the interview and almost flees the scene. Jean-René is also suffering, sweating, and scared to death by the ring of a telephone. The whole episode is so stressful that Angélique doesn't realize until after the meeting that she has gotten a job as sales rep rather than as a chocolate maker.
 
Jean-René's therapist gives him homework to build his confidence. When he is instructed to ask a woman out for a date, a very strange but endearing romance between the two begins.  Neither realizes that the other also suffers from emotional sensitivity and the fact hat Angélique is secretly making her own wonderful chocolates to help save the factory from bankruptcy all add to the fun.
 
This charming French/Belgian film naturally has a happy ending and you will leave the movies happy as well!