½
Starts August 4
Original language: English
by Marinell H.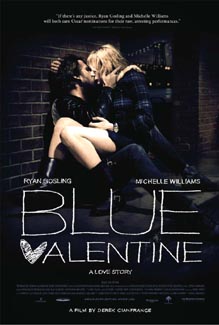 Dean (Ryan Gosling) and Cindy's (Michelle Williams) marriage is on a collision course, with little Frankie (Faith Wladyka) their core bond. In a vain attempt to rekindle their relationship, Dean proposes they leave Frankie with Grandpa Jerry (John Doman) and spend a night at an upbeat hotel. Cut to six-years earlier: Dean, a high school dropout working for a moving company, meets Cindy who is visiting her grandmother in a home for the elderly where he is delivering a new resident's belongings. For Dean, it is love at first sight.
Cindy is taken with Dean, although she has an on-going relationship with a high school boyfriend. Dean admits he has no professional ambition, or intention of being a family man, whereas she shares her dream to become a doctor. Subsequently, when a doctor confirms she is pregnant, Cindy confesses the father does not want to marry. Still, it is Dean who accompanies her to an abortion clinic, and when she decides against having one, takes her into his arms. Back to the present: Cindy works as a nurse, Dean as a painter and they struggle to keep their heads above water. Both are products of dysfunctional families, they have totally conflicting aspirations, and married for the wrong reason: Frankie is the true victim.
This melodramatic story is adorned with the usual clichés. The unremitting crosscutting between the present and the past, with no discernable differences in Cindy and Dean's appearance, the locations, the climate et al, is confusing, distracting, and difficult for us to know immediately which time period we are in. This film has little worth mentioning other than Gosling and Williams's strong performances. Save your money for a better movie, and instead watch reality television—that cannot be any more dismal.