Starts: September 22
Original language: German
by Birgit S.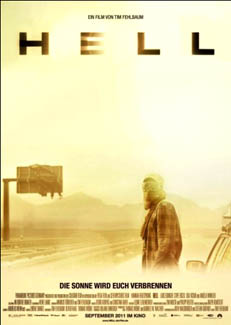 The title of this German film translates "bright" but might as well have meant the English "Hell" because that is what the young woman Maria (Hannah Herzsprung) and her sister Leonie (Lisa Vicari) have to go through. It is the year 2016 and the constant bright sunshine has scourged the earth. There is no food or water, only dust and blinding yellow sun. The two women drive together with Maria's friend Phillip (Lars Eidinger) towards the mountains in the hope of finding water. The old car gives them shelter but petrol is hard to get. Tom (Stipe Erceg) helps them and they take him along. But can they trust him? Tension is building up amongst the four. Suddenly a road block brings them to an abrupt stop. They are ambushed. Men were hidden in the woods and Leonie is brutally taken hostage. Tom's daring rescue plan gets them even deeper into trouble. Maria manages to flee and continues on her own in search for her sister. She takes refuge in a small church where an old woman (Angela Winkler) finds her. She invites Maria to her nearby farm to get some food and rest for a while. This is wishful thinking. More agony and indescribable horror is waiting.
This post-apocalyptic story is convincingly told with impressive camera work by Marcus Förderer (on second camera director Tim Fehlbaum) and complemented by Lorenz Dangel's orchestral music score. Hannah Herzsprung is a perfect choice for portraying Maria's psychological turmoil and her developing from a soft and uncertain person into a strong and resourceful woman under harsh circumstances. Angela Winkler (well known as a theatre actress) adds a contrasting dimension as the peasant woman whose soothing manner at the same time is chilling and disturbing.
Film director Tim Fehlbaum developed the script together with Oliver Kahl and Thomas Wöbke which is packed with absorbing - and often brutal - action. It is his first full-length movie with Roland Emmerich (The Day After Tomorrow) as executive producer and adviser.