Starts September 22
Original language: German

by Birgit S.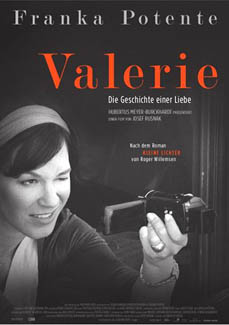 Valerie, a young woman, has just arrived form a long trip and now is alone in the cool and modern Berlin apartment belonging to her lover. She starts talking to him via a video camera. For six months he is in a coma in hospital. Valerie will eventually have to return to her work in Tokyo but wants her video message played to him in her absence hoping against hope that her voice might draw him back to life.
Thanks to the accomplished actress Franka Potente (Run, Lola Run), the audience is kept fascinated by her voice and subtly changing facial expressions. Without the clever camera work of Benedict Neuenfels it could have easily drifted into being a homemade family video. He adds substance with still photos and by experimenting with a changing colour scheme.
The small-budget film is the last part of a trilogy produced by Hubertus Meyer-Burckhardt. The script for this intimate play was written by Roger Willemsen from his first book Small Lights (Kleine Lichter).