Starts September 1
Original language: English
by Amanda W.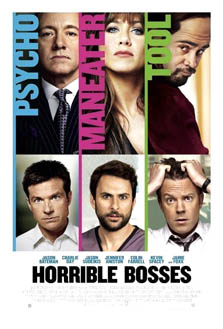 Nick has suffered humiliation under his horrible boss, Harken (Spacey), for the last eight years, all in hopes of a promotion. But, at the end of the day, Harken promotes himself. (Spacey is a terrific actor and makes an accurate impersonation of a heated, passive-aggressive sadist.) Dale is due to get married; his biggest dream in life is to become a husband. Luckily, he likes his job, because he has no choice. Unluckily for him, his boss Julia Harris (Aniston) is a nymphomaniac woman who harasses him sexually, even taking indecent pictures under the influence of drugs, in order to convince him. Aniston's outstanding acting as an unstoppable predator really surprised us here.
Nick and Dale hate their bosses and meet frequently to complain about them. On the contrary, their friend Kurt loves his boss and lives in a dream world, until one day his beloved boss dies. Then he joins the others, because his new cocaine-addicted boss, Pellit (Colin), is the impersonation of incompetence and corruption. He fires people to replace them with fresh meat to satisfy his lust. He will discard his company's hazardous waste at the cheapest opportunity just to save money. Over all, the three employees actually like their jobs, but realize they would be much better without their bosses. People will definitely identify and empathize here with these poor fellows, even if you don't agree with the moral issue of murder. As criminals, the three friends are totally useless, so they hire a murder counsellor (Fox). The car navigator is a very funny character full of personality. Personally I think this is one of the best comedy films this year, very entertaining and a moment to let steam off with lots of laughs.
Director: Seth Gordon, With Jason Bateman,Charlie Day, Jason Sudeikis, Jennifer Aniston, Colin Farrell, Kevin Spacey and Jamie Foxx.