Starts October 6
Original language: English
by Becky T.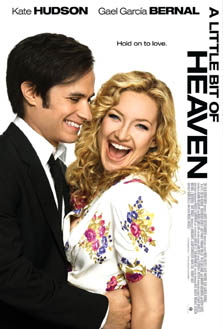 Marley (Kate Hudson) starts out like Jamie in the film Friends with Benefits. Both are successful professionally, go out on the town, live alone in nice apartments, and refuse to commit to one partner. Life is too short not to sleep around. In the end both girls see the value of a life-long commitment, except that Marley's life is much shorter and this is where the two films diverge.
A clinical examination reveals that Marley is suffering from colon cancer with a devastating prognosis of a short life expectancy. She begins to make the most of the precious time left to her and says, "I don't want any of that heal-y, feel-y shit." She falls in love with shy Dr. Goldstein (Gael Garcá Bernal). She brings her warring parents to one dinner table, and, if she cannot bring them together, she can, at least come to grips with their divorce. Suddenly, her job is not her prime focus; she takes an extended vacation. As Marley physically slowly and visibly fails, mentally, she experiences a complete turnaround and becomes caring and generous. She has mental conversations with "God" (played by Whoopie Goldberg). An escort service sends a man, nicknamed "A Little Bit of Heaven." He is Vinnie (Peter Dinklage), a dwarf, who stays the night.
The acting is excellent all around. I especially enjoyed Treat Williams and Kathy Bates as the parents. The dog Stanley is amazing – possibly the best actor in the film. There are some good one-liners such as, "Most of the great romances end in death" or "I want to put the fun back into funeral." She plans her own funeral which is a colourful party in New Orleans jazz style. New Orleans is the secret star; it would have been only half as interesting if director Nicole Kassell had shot it anywhere else.