Starts October 20
Original language: English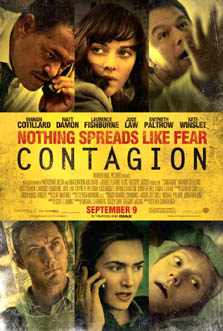 Rated PG-13 for disturbing content and some language, Contagion is the latest fear factor film to hit theaters – original screenplay by Scott Z. Burns and directed by filmmaker Steven Soderbergh. It's a Burns/Soderbergh collaboration dealing with a worst case scenario of a deadly viral infection; and, what role sanitation plays with its cause and effect toward human life. It reminded me of the 1995 film Outbreak directed by Wolfgang Peterson except for the fact that Contagion had many annoying editing glitches that created more of a disconnect to the topic than not. Make no mistake; the message is clear because you will leave this film more aware of your health and what you touch. And, you will never scoff at another Asian person wearing a face mask.
Burns researched months in advance on the field of infectious diseases in order to grapple with the unnerving theme to make his narrative believable. His investigation included information and conversations with several of the world's leading experts in the areas of tropical disease centers for preventive medicine, global threat foundations, epidemiology, neurology, pathology, scientists, and writers on infectious diseases. Dr. W. Ian Lipkin, M.D. (director of the Center for Infection and immunity at Columbia University and a professor of epidemiology, neurology and pathology) designed the virus and a special 3D model specifically for the film's storyline – meaning, the virus in the film is fictional. However, Dr. Lipkin suggests that the idea is not so farfetched and adds, "Over the past ten to twenty years, the frequency with which we are seeing reports of emerging infectious diseases has increased dramatically. There are a number of factors which have contributed to this, including the movement of people into areas where they're coming into contact with animals they didn't previously see and changes in climate that can redistribute biting insects and change their range, giving them the capacity to bring viruses into areas that are more temperate. In addition to people, we also have the movement of products all over the world. So it's a combination of things." Soderbergh's understanding of such a virus, after making this film, leaves him with these thoughts, "I am now more worried and more secure. More worried from those (the field experts) we talked to who felt there will be a virus at some point that tips over (as a serious threat to humanity) but secure in seeing the intelligence and skill level of the people who are the first line of defense if that happens."
A highly infectious and deadly virus goes global in a matter of hours when news of a healthy young business woman, Beth Emhoff (Gwyneth Paltrow) falls mysteriously dead at her home two days after returning home from a routine business trip to the Orient. No comfort can suffice her shocked and angry husband, Mitch Emhoff (Matt Damon). Grief-stricken by his loss is compounded two days later by the sudden death of their son from the same illness. As the hours toll, the number of death reports systematically encounter the string of symptoms beginning with a deep cough and high fever, followed by comatose and seizure, brain hemorrhage and ultimately sudden death. The epidemic has experts in the U.S. Center for Diseases Control and Prevention in a race against time to mobilize researchers to assess correlations and find a vaccine to fight against the deadly mutation. Deputy Director Cheever (Laurence Fishbourne) tries to suppress the growing panic that their efforts will be in vain, in spite of his concerns. Cheever reaches out to the World Health Organization to locate the source. Cheever's integrity as a leader and his compassion for humanity gives him the courage to save lives even at the risk of losing his own.