Starts November 10
Original language: English                 
by Osanna V.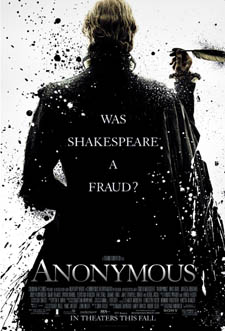 Rhys Ifans, Vanessa Redgrave and other talented actors star in a story of passion, political manipulation, belief and betrayal, directed by Roland Emmerich. The screenplay is by John Orloff.
Knowing that his beloved queen, Elizabeth I (Redgrave), dislikes the idea of James VI of Scotland inheriting the throne after her death, Edward de Vere (Rhys Ifans), Earl of Oxford, supports other contenders, whilst many of the queen's closest advisors support the Scottish claim. De Vere, a broadly travelled, extremely literate supporter of the theatre, is also a playwright, but, due to the barely disguised political nature of his plays and the condemnation of his Puritan guardian, William Cecil (main advisor to the queen), they have never been openly performed. Even so, de Vere becomes increasingly aware of the power of the written word to sway the opinion of the masses; with the help of his accomplice Ben Johnson (Sebastian Armesto), he resorts to having his works performed and credited to a certain actor of the time – one William Shakespeare (Rafe Spall).
Set in London during Elizabeth I's reign, Anonymous does an excellent job of putting forth an intriguing and quite plausible theory to further fuel the debate of who actually wrote the 37 plays and 154 sonnets attributed to William Shakespeare. An essay by Mark Twain on the subject supplies the broad framework for the story.