Starts December 29
Original language: Spanish
by Becky T.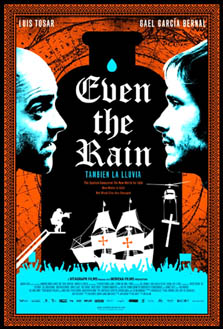 In this feature film water is not easily accessible for the poor people of Bolivia. In spite of this fact, the government plans to award water rights to private companies, which will then sell water at unreasonably high prices. This, needless to say, creates agitation among the local population. Meanwhile a Spanish film team has been hiring these same poor people as extras to play Indians in a historical film about Christopher Columbus. The political uproar, which develops into a riot, interferes with filming. All the Spanish film people leave the country quickly, all, except for one caring person who stays behind to help the injured daughter of an indigent family.
This story jumps from one segment to the next, leaving me perplexed and confused at a jagged attempt to show parallel atrocities between Indians in the late 1400s and peasants today. (There really was a Bolivian Water War in April 2000 and water accessibility really is a 2011 goal of the United Nations – not to mention a goal of the Federation of American Women's Clubs Overseas, which is an NGO.) Perhaps this film should have been a documentary in which water and its importance and unavailability in Bolivia could be explained – with or without any references to Christopher Columbus.
In spite of my reservations about Tambien la lluvia, it won the audience's prize in the Panorama category at the 2011 Berlinale, and showed at the Toronto film festival. It stars Gael Barcá Bernal from Mexico, was filmed in Cochabamba, Bolivia, and the director is Iciar Bollain.