½ 
Starts December 14
Original language: English | Swedish with German subtitles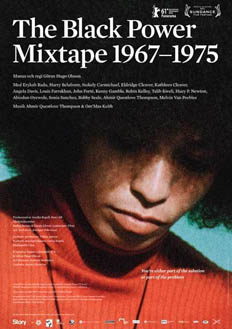 During the 1960's and '70's tumultuous events took place in the United States. The country was embroiled in an unpopular war with students ardently protesting across the country, the civil rights struggle intensified, President John F. Kennedy, Dr. Martin Luther King, Jr., Medgar Evers, and Robert Kennedy among others were assassinated, there were riots at prisons in San Quentin, CA and Attica, NY, and deep urban unrest prevailed. Swedish journalists reporting on the USA's societal upheaval focused on East and West coast events; their footage, forgotten for 30-years in Swedish Television's basement, ultimately turned up.
Göran Olsson conceived, wrote, and directed The Black Power Mixtape 1967-1975 using this amazing 16mm footage, and includes Swedish journalists' reportage. A documentary in nine chapters—for the years 1967 through to 1975—it purposes at the outset not to tell the whole story of the Black Power Movement, but instead show how some Swedish filmmakers perceived it. Good that that is cleared up at the beginning; the film is disjointed and rambles, with the archive footage being it's most captivating element.
The film embraces the Viet Nam war mayhem, anti-war protests and civil rights demonstrations, the assassinations and prison riots, FBI shenanigans, a TV Guide magazine squabble with Swedish TV, and, the Black Power movement's momentum. Whew, that is ambitious.
Old news footage attention-grabbing cast includes: Stokely Carmichael, Dr. Martin Luther King, Jr., Bobby Seale, Eldrige Cleaver, Kathleen Cleaver, Huey P. Newton, Emile de Antonio, Angela Davis, William Kunstner, Talib Kweli, Meliv Van Peebles, and Louis Farrakhan among others. Throughout is present-day voice commentary from key artists, musicians, activists and scholars: Abiodun Oyewole, Harry Belafonte, Erykah Badu, Robin Kelley, John Forté, Sonia Sanchez, Questlove, and more.
Many Black Power proponents are articulate and intelligent, some masters of semantics, persuasive and passionately dedicated. Forty years has centered and mellowed Eldrige Cleaver and Angela Davis's rhetoric. Robin Kelley, professor and author, most succinctly talks about that period in history, and sums up the three legacies of BP: The color of BP is green (money); building black institutions and buying black, but not necessarily transforming or revolutionizing society. Secondly, cultural nationalism: then extreme, Spike Lee's film Malcolm X equals cultural nationalism's resurrection. Finally: the black radical tradition that exists in certain forms of Hip Hop—the rhetoric and organization—has transcended into the Feminism and Gay Rights movements.
Olsson complicates by trying to show too much; better he had made two documentaries about these richly pivotal, now legendary, years whose events resonated throughout the world. That era, and BP, instigated numerous changes that have benefited society and, contained, the film could have enthralled rather than bewilder.