½
Starts December 29
Original language: Aborigine, English | German Subtitles
by Marinell H.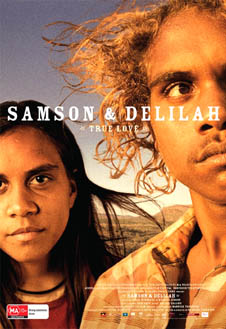 Along a dusty road in Central Australia's wasteland less than a dozen habitats is home to indigenous persons left hanging on the fringe. Each day monotonously trickles into another. With the regularity of the sun rising and setting, Delilah (Marissa Gibson) tends to great-grandmother Nana (Mitjili Napanangka Gibson), giving her medication, taking her to the mobile-home health clinic and the white-washed tin chapel, and helping with her aboriginal paintings. Across the road Samson (Rowan McNamara) sniffs his oasis, endeavors to play his brother's guitar with the Verandah Band until chased away, and trails after Delilah, writing "Sh D Only One" on the grocer's cinderblock storefront.
Samson pluckily sets a course to install himself in their yard; Nana encourages Delilah, however Delilah wants nothing to do with him. The one common denominator these teenagers seem to have is their love of music. Then one monotonous morning, the fluctuations of life intervene. Both, beaten and bruised—Delilah from the neighboring Payback Aunties, and Samson at his brother's (Matthew Gibson) hands, leave. The city is not what they anticipated, or are prepared for. If not for stumbling into old homeless Gonzo's (Scott Thornton) campsite under the highway overpass, their strait might have become direr. Gonzo looks after them, until he finds Christian folk willing to take him in. Outer, and inner demons, along with precipitous behavior push Samson and Delilah to the forefront of what is foremost for each of them.
Warwick Thornton writes, directs, and is behind the camera in this introspective film. Because there is minimal dialogue, it is up to his camera to tell us more. It does. With help from Roland Gallois's editing. Adrift in ambivalence, their inner strength and resilience prevails; the pair reconnects to their roots, and destiny. At the 2009 Cannes film festival Thorton received a Golden Camera for Samson & Delilah as best Debut Film.