Starts March 8
Original language: German
by Carola A.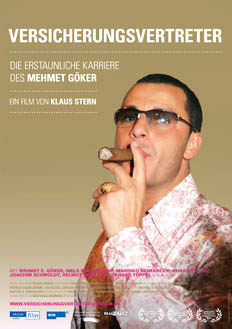 This is a documentary about a young insurance broker, Mehmet E. Göker, son of Turkish immigrants, who - with amazing determination - builds a company (MEG) that will become Germany's second largest health insurance brokerage. It will be bankrupt by 2009; Göker, to date with over 55 million Euros in claims against him, has been accused of fraud, tax evasion, intimidation, and slander. Even more so, it is a tale of 'greed devouring brain' (Gier frißt Hirn) – to quote one interviewee.
Göker's recruits (over 1,000 workers operating via phone and internet), lured by his motto 'Don't dream your life, live your dream!' and blinded by riches and glamour - were willing to endure his 'carrot and stick' approach to leadership, often becoming bizarrely devoted disciples of this 'pied piper'. The caution 'If it sounds too good to be true it probably is' was 'thrown to the wind' by almost everybody he dealt with - most damaging so by the health insurance providers, who paid insanely high commissions in advance (!). We may not learn more about the healthcare system, but definitely why the premiums keep going up.
For once I was glad to see very few women within MEG's workforce - none part of his 'inner circle'. Presently though, there is mother Göker. Supposedly it is she who owns a newly established business in Istanbul: the "Göker Consulting Group". Her son claims to be just one of 50 employees – operating from a safe distance to the German authorities. Klaus Stern (Script & Direction) created a lively fast moving montage using his own film footage and interviews, public records, MEG-company- and private videos; not surprisingly, insurance companies declined comment. A little more background-info on the protagonists would have been helpful to the viewer though.
(Translation: Insurance Agent -The astounding career of Mehmet Göker)