Starts: April 19
Original language: English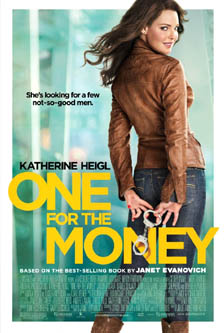 That's it?
That's all they managed to do with Janet Evanovich's first Stephanie Plum book?
I'm probably not the only one who thought that bringing the adventures of bounty hunter Stephanie to the big screen couldn't be too hard. After all, the highly successful Stephanie Plum series has a lot to offer, like a charming, resourceful, sexy heroine. Stephanie Plum, ex-lingerie buyer and currently broke, has to take a job as a bounty hunter or she will lose more than only her car which has just been repossessed. As fate and Janet Evanovich would have it, the only job which will pay enough to solve her problems involves finding and bringing in Joe Morelli, the very guy who once seduced her and never called. (But she got even by running over him with a car.) So Stephanie, who shares her thoughts with her hamster and thinks a gun is something you keep in the cookie jar, and cop and murder suspect Joe Morelli are on a collision course once more. Before all is over, more people get killed, cars explode, another hunky man appears on the scene and Stephanie learns to use a gun. And that isn't all.
While the book is often very funny and hard to put down and the film follows the book quite closely, the funny scenes in the movie aren't really funny, the sexy scenes not really sexy, and the exciting scenes not really exciting. Katherine Heigl's Stephanie Plum is a mere shadow of the book character and Jason O'Mara is Jason O'Mara trying to be Joe Morelli. And where's the chemistry between those two? (Telling the audience what the characters are feeling is just not good enough. With all the voice-over-narration in this movie, I sometimes felt like I was watching an audio-book.) The supporting actors fit their roles better, especially Sherri Shepherd as Lula, the hooker who is almost killed for helping Stephanie, and Daniel Sunjata as the mysterious Ranger.
Written by Stacy Sherman, Karen Ray and Liz Brixius and directed by Julie Ann Robinson, One for the Money is a weak adaptation of the novel it is based on. Janet Evanovich's book deserves better, and so do we.