Starts April 12
Original language: French Canadian
by Birgit S.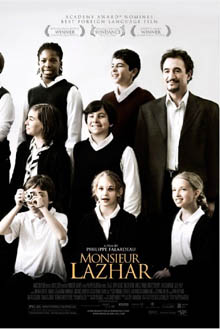 The film starts with a shock. One morning the body of the beloved teacher Martine dangles from the ceiling of the classroom of the elementary school in wintry Montreal. This is not a sight that the 11- and12-year-old pupils should be faced with. The confused teachers have to deal with traumatised children and their hysteric parents. Monsieur Lazhar (Mohamad Fellag), an Algerian refugee, who is stepping in as the replacement teacher, reaches out to the children with empathy and moral support. At the same time he has to deal with his own loss, the death of his family and his uncertain political status as a foreigner. Touching and very convincing performances are given by the children, particularly Sophie Nélisse as Alice and Emilien Neron as her close friend Simon.
With this thoughtful and sensitive film the writer-director Philippe Falardeau explores Canada's racial conflict by high-lighting the educational system of his multi-cultural society. He even allows himself to wittingly poke fun at elementary school politics.
Monsieur Lazhar is Falardeau's forth feature film and was chosen as Canada's candidate for the 2012 Oscar nomination.