Starts April 5
Original language: English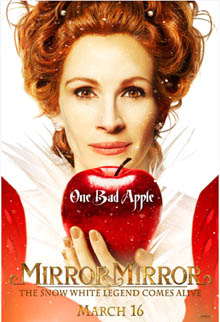 A favorite European fairytale, "Snow White", is famous worldwide with the best-known version written in 1812 by the Brothers (Jacob and Wilhelm) Grimm, "Snow White and the Seven Dwarves" (Schneewittchen und die sieben Zwerge). It has a jealous, unscrupulous Queen (Oscar®-winner Julia Roberts), a breathtakingly beautiful stepdaughter Snow White (Lily Collins), a magic mirror, a botched Queen-ordered assassination, seven dwarfs who befriend and aid Snow White in their diminutive forest cottage, a poisonous apple, and natürlich, a gorgeously handsome young Prince (Armie Hammer). Of the countless versions of this fairytale that have ensued, including the Brothers Grimm, Mirror Mirror encapsulates their essence best – sorry, no glass coffin here.
"Once upon a time, long, long ago… (the animated introduction titles are lovely) … (in the kingdom) singing and dancing – apparently no one worked then, but I digress…" begins the evil Queen, revealing the capriciousness of this interpretation. Invoking "Mirror, mirror on the wall" to confirm her beauty the Queen hears, "marry someone rich, fast." The Prince and his servant Renbock (Robert Emms), accosted and unclothed in the forest by giant muggers turn up at the castle seeking help; the Queen—"he's young, handsome and semi-nude"—trembles with desire. Renbock cautions his master, "then there's just good ol' psycho-crazy." The Queen's personal lackey Brighton (Nathan Lane), riding through the sinister woods having collected yet more taxes from the impoverished realm, tells the band of thieves the carriage "is a rental" before conceding "don't spend it all in one place." Whereas the Queen scorns: to Brighton, "if you want someone dead you have to do it yourself", to Snow White, "die well", and lastly, "so it was Snow White's story after all."
Director Tarsem Singh's (Immortals, The Cell, The Fall) boosts Mark Klein & Jason Keller's screenplay from Melisa Wallack's screen story with his signature: spectacular art direction, innovative visual storytelling and meticulousness. The cast— Sean Bean, Mare Winningham, Michael Lerner and the mischievous seven, Martin Klebba, Danny Woodburn, Mark Povinelli, Joe Gnoffo, Jordan Prentice, Sebastian Saraceno, Ronald Lee Clark—infuse the tongue-in-cheek lingo and wicked humor brilliantly. Imagine Snow White as a feminist, the Mirror exacting payback, and one dwarf, Half Pint, a fashion guru. Do they all live happily ever after? Only sitting through the end credits will give you the answer.