Starts May 3
Original language: English
by Osanna V.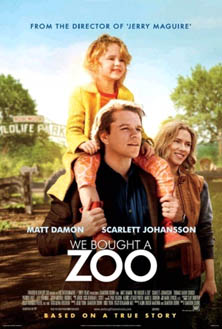 Directed by Cameron Crowe with a screenplay by Aline Brosh McKenna, this fun, family comedy, based on a true story, stars Matt Damon and Scarlett Johansson.
Adventure journalist Benjamin Mee (Damon) is a widower with two young children, haunted by the memory of his beloved wife. In an effort to make a new start, Mee decides to quit his job and move his family to a new home. The property he finally sets his heart on comes with an additional surprise: a bankrupt, 70.000 square meter animal park, as well as a small but dedicated team of zoo keepers headed by Kelly Foster (Johansson). Mee's older brother Duncan (Thomas Haden Church) thinks Benjamin is making a big mistake, his daughter Rosie (Maggie Elizabeth Jones) is delighted, and his young teenage son Dylan (Colin Ford) thinks it's a disaster. Despite the unbelievable challenges at all levels, and with the support of the zoo keeping team, Mee sets out to turn the park around and into a success. It is no easy feat and at one point it seems like they have reached the end of the line and will have to admit failure; it is then that, unexpectedly, Mee's deceased wife intervenes to save the day.
While inspired by a true story, many of the circumstances and relationships, as well as the location (the US as opposed to Britain), in the film differ significantly from the original; even so, the result is a charming and entertaining film that will make for an excellent, chuckle-filled family outing.