Starts June 28
Original language: English
 
by Thelma F.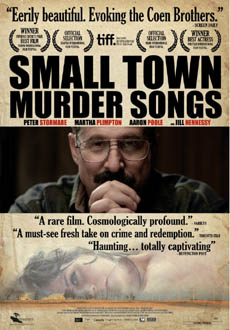 Small Town Murder Songs was written and filmed around an album of the same name by the Fenbots. Each section of the movie is presented as a chapter introduced by a caption of a religious proverb and the loud haunting music of harsh gospel sung by the Fembots.
 
Police officer Walter (Peter Stormare) is being baptized in the lake of a small Mennonite town in Ontario. Apparently he is trying to wash away the sins of his former violent self and perhaps also trying to better relate to his new religious girlfriend (Martha Plimpton). A murdered woman is found near the same lake and a senior officer is called in to help the two local officers. Although just relegated to menial tasks, Walter tries to keep his former girlfriend (Jill Hennessey) out of the inquiry and, although Walter is not heading the investigation, the townsfolk still do not quite trust him and refer to the violence to which he apparently used to be prone.
 
What seems to be a regular crime story is actually the story of a man seeking to be a new person. The quiet of the Mennonite people and their community is always present in deep contrast to the hint of violence which is never really explained and then there is the soundtrack which almost seems like a Greek chorus. This film is being compared to films by the Coen Brothers.