Starts June 14
Original language: English | Chinese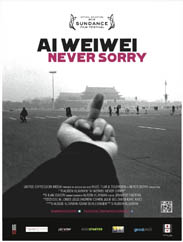 "I wanted to make this film about Ai Weiwei because I wanted to make a film about a character-strong artist who is willing to take risks by pointing out society's grievances," says American filmmaker and journalist Alison Klayman. She speaks fluent Mandarin and followed China's most prominent contemporary artist together with cameraman Colin Jones for three years. Having incredibly close access to Ai Weiwei she succeeds in an excellent portrait of this charismatic artist and outspoken critic of China's human rights. She interviewed Chinese art experts and friends but also shows a very personal side when meeting with Ai's mother or his little son – from an out of wedlock sexual relationship. 
The film starts with his investigation into the Sichuan earthquake in 2008 where shoddily built school buildings collapsed like cardboard boxes causing the death of thousands of children. Via his daily blog on Twitter he enrolled willing helpers for his research. The Chinese government tried manipulating the death figures and hiding the scale of this disaster. At his exhibition "So Sorry" he honours these school children with the installation "Remembering" at Haus der Kunst München where 9,000 colourful school backpacks were attached to its façade. A month before the exhibition Ai was brutally attacked by Chinese Secret Police receiving a heavy blow to his head which resulted in an emergency operation.
Taking photographs of himself in various situations and surroundings seems to be an obsession but Ai courageously expresses himself through social media, giving a voice to the many people in his country who are unable to do so.
Ai Weiwei is not just a provocateur and political activist. As a successful architect he designed and built numerous private houses and galleries. The most famous architectural collaboration is with Herzog & de Meuron on Beijing's Olympic stadium, called "The Bird's Nest". He also held a number of exhibitions world-wide, his conceptual art earning him international accolades. His sculptural installation Sunflower Seeds was part of the 2010 commissioned Unilever Series at the Tate Modern in London.
Through the lens of Alison Klayman we learn of Ai's strength and weakness. He is constantly harassed by the police, was detained for 11 weeks in April 2011, his blog is closed down and his newly erected studio was razed to the ground by the authorities. This informative documentary provides a nuanced inside story of contemporary China giving a background of Ai Weiwei's drive and motives in his fight for free expression. His openness and optimism is an inspiration not only for art enthusiasts.

This is a little creepy accounting of his life and art. The guy is bold and takes a lot of risks for justice's sake and I admire that. However, I think he lives in a lot of tension and has so much at stake all of the time. The film puts him on almost an untouchable level with the Chinese government, but it will only take one slip up and he could also be dealt a bad card himself or his family.