½
Starts June 14
Original language: English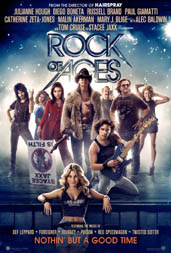 I guess it is pure camp. If you look at the film that way, Rock of Ages is tolerable, and at moments, almost enjoyable. If you can groove to 1980s rock songs from Bon Jovi, Guns N' Roses, Def Leppard, Foreigner, Journey, Poison, Whitesnake, Night Ranger, Twisted Sister, and REO Speedwagon, that'll help. If you like director Adam Shankman's successful musical Hairspray, all the better.
The clichéd plot is thin, thin, thin. In 1987 Sherrie (Julianne Hough), a teenaged Doris Day clone leaves Oklahoma on a Greyhound Bus to find fame in LA as a singer. After she is robbed of her suitcase of valuables (her record album collection) on the mean streets of LA, she meets and falls in love with the incredibly cute aspiring young rocker Drew (Diego Boneta). She joins him waiting tables at Sunset Strip's famous rock mecca, the Bourbon Room, owned by Dennis Dupree (Alec Baldwin) and managed by Lonny (Russell Brand). Dupree's allegedly decadent nightclub is being targeted by the mayor's born-again wife (Catherine Zeta-Jones) and is facing foreclosure due to unpaid taxes. The only thing that can save the Bourbon Room (and launch the careers of Sherrie and Drew) is a sold-out show by Stacee Jaxx (Tom Cruise), a debauched, middle-aged rock star who owes his start to Dupree.
The other members of the cast include Paul Giamatti, Malin Akerman, Mary J. Blige, Bryan Cranston, and Mickey the Baboon (don't ask). Alec Baldwin is refreshingly degenerate as the nightclub owner. Russell Brand is just Russell Brand, but more so and suddenly gay. Catherine Zeta-Jones can still do Rockette-high kicks as she demonstrated in Chicago. However Tom Cruise, the washed-up rock star Stacee Jaxx, is the only cast member who can consistently make us marvel. If it is true that he is singing and playing the electric guitar himself, that is impressive. His bejeweled codpiece, his suggestively aimed pistol tattoos, and his buff middle-aged torso are all a sight to behold. I am not quite sure why, but just watching him perform is morbidly fascinating and definitely worth the price of a movie ticket.