Starts August 16
Original Language: English
by Allison M.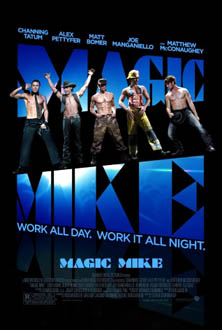 Mike (Channing Tatum) is an entrepreneur: working days in construction, and customizing cars on the side. He is saving money to launch his dream business: building custom furniture.  Mike meets Adam (Alex Pettyfer) at the construction site and they strike up a friendship. Adam, whose life seems to be going nowhere, runs into Mike the next evening and learns that Mike is stripper "Magic Mike" at a club called Xquisite, run by a former stripper named Dallas (Matthew McConaughey). Looking for adventure, and some quick cash, Adam becomes "The Kid" and is thrown into the spotlight. Adam, enamored with his newfound "career" joins the cast of regulars on-stage. Inevitably, things go sideways and Mike is forced to evaluate his plans and make some tough decisions.  
 
Oh yeah, and they all get almost completely naked. All. The. Time. 
 
Almost surprisingly, the actual movie part of the movie was fairly well-done, although most of the conflicts seemed to be resolved a little bit too easily.  But let's be honest here… "I really want to go see that movie about strippers because I heard the plot is really interesting," said NO ONE EVER. This movie's real story is the eye candy, and there is plenty to go around. Very loosely based on Channing Tatum's real-life experience as a stripper in Tampa, Florida, it is obvious that Tatum hasn't lost that particular skill set. In fact, all of the men in this movie were convincing in their stripper roles: and by convincing, I mean tan, muscle-y and choreographed. This is a fun movie to watch, and the perfect girl' night out activity… as long as you're comfortable seeing A LOT of skin.