½ 
Starts August 16
Original language: English
by Marinell H.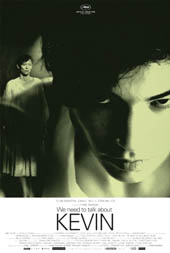 Intelligent, emotional and thought provoking, this film will stir viewers' scruples concerning interaction within families. Lynne Ramsay & Rory Kinnear's screenplay is as mesmerizing as, I am told since I have not read it, Lionel Shriver's acclaimed novel, with Ramsay also directing. Tilda Swinton unerringly encapsulates Eva Khatchadourian: happy wife to John C. Reilly's complacent Franklin, then a mother overcome by a designing toddler-child-teen, and finally a shadow of her former-self, friendless, who survives on menial work, intermittent visitations, pensive reflection and, hope.
 
Through flashbacks we see Eva and Franklin have a great life living in NY City: lively, successful professionals, it is Eva who relinquishes work to stay home when Kevin is born. Not necessarily the nurturing type, she is aghast when Franklin unexpectedly announces he bought a house in the suburbs. As Kevin gets older their testy relationship intensifies, yet Franklin is, or chooses to be, oblivious. Even when Celia (Ashley Gerasimovich) arrives, sweet and idolizing of her older brother, Kevin methodically increases his fragmentation tactics. The culmination of which is an incident with dire consequences, directed as much at his mother, as himself.
Swinton captures in glances and stares, posture and sighs what each Kevin skillfully imparts: Ezra Miller as the teenager, Jasper Newell as the 6-8 year-old, and Rock Duer as the toddler: the nuanced interaction, and Swinton's superb minimalist acting, inflect this turbulent bond with chilling realism. Ramsey wisely chooses to focus on this. Well made, and delivered, We Need to Talk about Kevin makes us wonder why they did not, about all those who do not, and acknowledge the importance of open communication. Although a harrowing story, the treatment throughout is empathetic, noncommittal, as well as spellbinding.