Starts August 9
Original language: English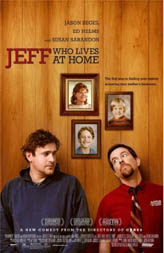 This nice, undemanding story about personality differences and relationships asks nothing more than that one sit back, have some laughs, and be entertained. Jeff (Jason Segel) and Pat (Ed Helms) are brothers with diametrically dissimilar lifestyles and, seemingly, personalities. Wondering about his destiny, and recognizing "signs from the universe" is not hard for Jeff, living in his mom's basement and unemployed, whereas Pat, married to Linda (Judy Greer), is a go-getter salesman for a paint company. When Sharon (Susan Sarandon) phones and cajoles Jeff, under the pretext it will be his birthday present to her, to leave the basement, get glue at the hardware store and fix a kitchen door's shutter-slat, fateful consequences are unleashed.
Linda dumps Pat's "just because" special breakfast on the Porsche he secretly bought with money earmarked for a house. Text messages arrival from a "secret admirer" in the office intensifies Sharon's day. Jeff gets off the bus to follow one of his "signs". Throughout this day, their paths crisscross—Pat takes Jeff for a hairy spin in his Porsche, Linda unloads on friend Steve (Steve Zissis), the brothers spot the two-timing wife, Sharon's co-worker friend Carol (Rae Dawn Chong) admits being a bit "jeli" when she learns about the secret admirer, the boys fight and part only to have fate reunite them, and Sharon realizes standing under a waterfall is most memorable if you are with someone who cares. Only when they trip over one-another during a bottleneck on the Lake Pontchartrain (Louisiana) Causeway, does "the universe" get their attention.
Jay & Mark Duplass' screenplay, after a slow start accelerates, awakening interest in moral topics that it glides over, not providing introspection. Also directing, the brothers' cast delivers, and Michael Andrews's music is inventive—sometimes downright sprightly, and minimal. Jas Shelton's erratic cinematography smoothens, and with all the zigzagging Jay Deuby compactly cuts to deliver this likable comedy. A day that changes lives, Jeff, Who Lives at Home even rewards us with a fuzzy-feel-good ending.