1/2
Start August 2
Original language: French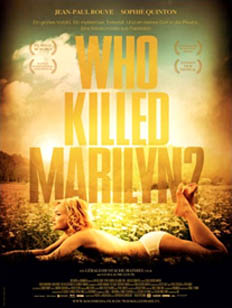 The only reason for David Rousseau (Jean-Paul Rouve) to drive 600 km through ice and snow is to collect the inheritance of his deceased uncle. What a disappointment. He only gets the long-dead stuffed family dog which he immediately deposits in the next garbage bin. Before he leaves Mouthe, evidently the coldest place in France, he stops at a bar where he hears about the death of Candice Lecoeur (Sophie Quinton), the town's famous model for the local cheese. The beautiful blonde was loved and admired by her fans. Why would she decide to take her life? When found at a lonely spot in the snow she had a box of pills in her hand. For the police this is a clear case of suicide and the file is closed without further investigation.
 
Rousseau, a bestselling crime author lacking an inspiration for his next book, senses a story. He starts talking to people in town and doesn't even stop at breaking into Candice's home which once was a biscuit factory. The next bold step is finding his way into the morgue. There she lies in all her beauty but with signs of an injection needle visible. The police commandant warns him to let the case rest. But an excited hairdresser is pleased to tell him more details, hoping to feature in his new book. After stealing Candice's diaries he is euphoric and mesmerized by her writing. She totally identified herself with Marilyn Monroe. Indeed, there are many similarities. It's almost the same biography, i.e. an early marriage with a national sportsman, born a shy brown-haired girl that became a sexy super-blond, her sudden rise to fame, seeking help from her psychiatrist, etc. The discovery that Candice had a lover for whom she sang "Happy Birthday, Mr. President" adds further confusion. The action speeds up. Police officer Bruno Leloup (Guillaume Goux), also a fan and admirer, is willing to help Rousseau to uncover the truth. In the end the mystery is solved, the novelist falls in love with his heroine and starts writing with new inspiration and confidence.
This atmospheric crime story with romantic undertones was written by French director Gérald Hustache-Mathieu together with Juliette Sales. Camera man Pierre Cottereau catches the film's mystical atmosphere as well as an impressive winter landscape. There are amusing scenes, like the group of stark naked firemen holding a red jumping sheet showing-off a seductive Candice (beautifully photographed). Quirky details give it a certain satirical and off-beat quality. It is nothing like a hectic thriller with spectacular car chases. This is a slow moving film with long shots, accompanied by pop music alternating with soulful songs.