Starts September 20
Original language: English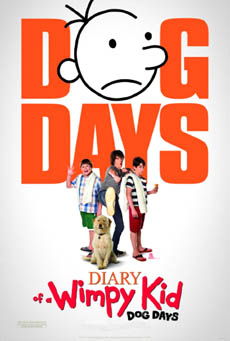 Since 2007 Jeff Kinney has published a series of 10 Wimpy Kid Diaries, all quite successful. Two have been filmed, and now we can delight in the third film, based on the third and fourth books.
Greg Heffley (Zachary Gordon) is approximately 13-years-old in 7th grade, but now school is out and summer vacation time awaits with the advent of the American Memorial Day holiday the end of May. Greg dreams of sitting in front of his computer or similar electronic devices for the next eight weeks. His father Frank, a nice guy but insecure and susceptible to the influence of the 100% American poster family next door, sends Greg outdoors for some healthy sport, saying, "Summer time is for real games, not video games." Not enough: Frank's Boy Scout troop must sleep out in Camp Chicanouk in competition with this neighbor's Boy Scout troop.
Otherwise, Greg hangs out with his classmate and friend Rowley Jefferson (Robert Capron) – a nerdy boy, but useful due to his exclusive country club membership. Rowley and Greg go to the club's swimming pool on a daily basis - not that Greg is so keen on swimming. It's just that Holly Hills (Peyton List) is there, too. Soon Greg's older brother Rodrick persuades him to sneak him into the club though the back fence. Why? Because Holly has a 16-year-old sister named Heather. In the end Rodrick's band the Löded Diper (aka loaded diaper – I totally cracked up on that one) plays disastrously for Heather's sweet sixteen birthday party – a song called "Fuck Miz." Greg also goes on a mi(z)erable vacation with Rowley and his equally nerdy parents. And so, the summer flies by, overshadowed with frequent scary comments that perhaps a private school called Spag Union might be better for Greg's future.
Although the books are quite successful, I've decided that the movie is even better. The actors are much as I had imagined them from the book; Devon Bustick as brother Rodrick is fantastic. Even Sweetie the dog is talented. The action is quick; the facial expressions tell the story so well that often we don't need text. The family is so "normal" that we can identify and delight and suffer along with them. There is a general atmosphere of fun, without being forced. I imagine that the huge group of young extras must have had a fine time during shooting the film. It will be interesting to see how much longer Zachary Gordon can play a young adolescent, as time stands still in the books, unlike Harry Potter, where the actor could age parallel to the character. Directed by David Bowers.