Starts September 20
Original language: French
by Carola A.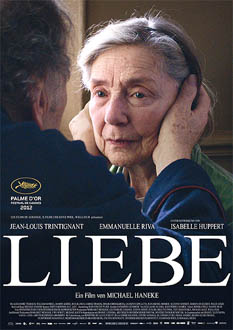 Georges and Anne – both in their 80s - enjoy a comfortable retirement: still happily married, financially secure, they live in a beautiful 'old-world charm' apartment, and share an interest in the arts. But two strokes will confine Anne first to the apartment, then to her bed, unable to communicate and finally lost in her own world. George cares for her with great tenderness and though increasingly frail himself, he won't allow that they be separated.
Time passes slowly, seemingly in real-time (great camera-work by Darius Khondji). We watch how difficult simple chores have become and witness their suffering. There is no soundtrack manipulating the emotions of the audience. All is carried by the fantastic performances of Jean-Louis Trintignant, Emmanuelle Riva and Isabelle Huppert (as their daughter) under the direction of Michael Haneke.
This deservedly prize-winning (Palme d'Or 2012) film begins with the end, with Anne dead, the police investigating; then it tracks back. Without sentimentality it addresses 'aging', 'mortality' and (for lack of a better expression) "death by an act of love". Social or financial problems taken out of the equation, there is no one to blame: the focus is purely on those essential questions.
Direction & Script: Michael Haneke
With: Jean-Louis Trintignant, Emmanuelle Riva, Isabelle Huppert
Genre: Drama, 125 min.
Editing: Monika Willi, Nadine Muse
Production Design: Jean-Vincent Puzos