Starts September 13
Original language: German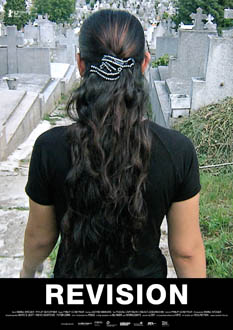 The "revision" which takes places in this documentary by Phillip Scheffner, is an attempt to investigate a court case of a murder which occurred during the night of June 29, 1992, near Nadrensee, Germany, on the Polish border. Two men were found dead in a corn field guarded by tall wind mills. The investigation revealed that they were gypsies from Romania who crossed into Germany illegally with a group of other men. They had been shot by two hunters who, in the early morning, were looking for wild boar, and thought they had found them. Strangely, the German hunters left the scene; farmers found the corpses, after the field had burned and then was ploughed. Four years later, the court case against the two hunters began; ten years later, the case was closed and the men were declared innocent.
The families of the victims (Eudache Calderer and Grigore Velcu) never knew what had happened until Scheffner visited them, 20 years later, for their comments. They only knew that they had been notified to pick up the bodies for burial. Director Scheffner visits the village, scene of crime, lawyers of the accused, and townspeople, but mostly he films conversations with the two extended families of Calderer and Velcu – in Romanian with a translator. According to statistics of an NGO called Fortress Europe, 14,687 immigrants died on the border to the European Union between 1988 and 2009. If they had come to Germany today (as their grown children do in the film), they would have been perfectly legal; Romania has been a member of the European Union since 2007.
There were several obvious inconsistencies. For example, hunters who thought they had shot wild boar, would have checked, in order to take the wild game home with them. But these were "just" illegal gypsies from Eastern Europe. Not only did the families never receive any compensation from any individual or government, they never knew how their fathers had died, nor that any court case had ever been in session.
How differently would the story have unfolded if they had been Americans or British? Revision celebrated its world premiere at the 2012 Berlin Film Festival.