Starts October 11
Original language: English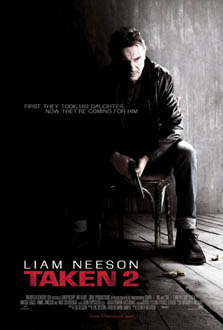 In the exciting sequel to 2008's popular action film Taken, Liam Neeson returns as Bryan Mills, an ex-C.I.A. agent with an extremely unlucky family. Taken 2 takes place only a few months after the events of the first film, where Mills' teenager daughter Kim (Maggie Grace) was kidnapped by Albanian sex traffickers. Kim is having a hard time readjusting to life in the States, and her mother, Lenore (Famke Janssen), is going through a messy separation with her second husband. Mills offers to take them both on a quick vacation of Istanbul, which quickly turns dangerous as the Albanian relatives of the sex traffickers who kidnapped Kim and were henceforth killed by Mills, come to exact revenge.
Taken (2008) was a surprisingly fun action film because it took an overused cliché of an American teenager being kidnapped in a foreign country, and added in an action-hero dad who comes and saves the day by systematically finding and killing everyone who hurt his little girl. It tapped into the father-daughter relationship feelings, and so from the beginning everyone was looking forward to seeing Liam Neeson killing a bunch of bad guys. There were clichéd lines and clichéd action scenes, but that was okay because it was always just about seeing Liam Neeson saving the day. However, in the sequel Taken 2 (2012), the theme already feels a bit overused and boring.
The primary problems seem to originate with the unoriginal and directionless screenplay. The same lines from the first film are pretty much repeated in the sequel without any effect, and the idea of the limits of time in a kidnapping (which are referenced in the European title of 96 Hours are completely lost when Liam Neeson's character must save himself and his uninteresting ex-wife (who is conveniently unconscious for most of the film). The audience knows he will save the day, but the tension created by wondering what might happen if he doesn't save his daughter quick enough fails to exist in the sequel. With the addition of Olivier Megaton's clumsy direction of action scenes, and completely stale dialogue (during a car chase scene where Kim, who has no driving license, has to drive, she screams, "Dad!" and "I can't!" about a dozen times, and her father always responds, "Go faster", and there was practically no other dialogue), Taken 2 suffers from the sequel slump that is often seen in the action genre.
However, Taken 2 is only an action film, and as such can not be critically examined in the same way as other, more serious films. It accomplishes what it was meant to, the action scenes are enjoyable and the film moves along quickly. It certainly doesn't top the original in any way, but as far as action films go, Taken 2 was okay. However, the whole film begs the question, if you were Kim and had been brutally kidnapped by European sex traffickers, would you be jumping at the chance to travel back to Europe? Yeah, I didn't think so.
Directed by: Olivier Megaton
Writing credits: Luc Besson, Robert Mark Kamen
Principle actors: Liam Neeson, Famke Janssen, Maggie Grace, Rade Serbedzija