½ 
Starts October 4, 2012
Original language: English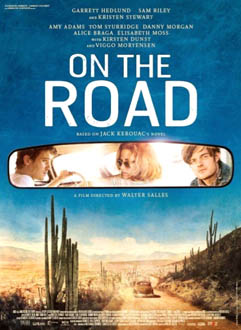 A group of New York writers, eschewing a hedonistic, bohemian lifestyle, while experimenting freely with sex, drugs, and alternative religions and ideas, gained prominence during the 1950's. Calling themselves the Beat Generation, their influence metamorphosed into the 1960's subculture, the hippie movement, as well as impacting pop and rock musicians. Best known, and often revered, are Allen Ginsberg (Howl, 1958), William S. Burroughs (Naked Lunch, 1959—this and Howl [a film based on Ginsberg's poem: January 2011 review] which caused obscenity trials that transformed publishing in the US), and Jack Kerouac, who wrote On the Road in 1957 and it is the basis for this film, with a screenplay from Jose Rivera.
Sal Paradise (Sam Riley) is determined to write a book; through fellow writer and friend Carlo (Tom Sturridge), he meets Dean Moriarty (Garrett Hedlund), a tormented soul and like no one either have hitherto known. Neither is Dean's very young bride Marylou (Kristen Stewart). Dean moves to Denver, Colorado with Carlo, summons Sal, and this adventure awakens Sal's lust for more enhancing, real-life experiences that could benefit his book. He hits the road: hitchhiking, walking, driving, or taking buses—his meeting Terry (Alice Braga) results in a cotton-picking detour—we vicariously travel along. Yet all roads lead back to New York.
Director Walter Salles takes time telling Sal and Dean's story; Eric Gautier's camera does not shy away from the post WW II dearth or the Beats' wild shenanigans, just as François Gédigier's editing finesse keeps us from getting lost. A stellar cast admirably portrays the many people that wind their way in and out of Sal's life: Dean's second wife Camille (Kirsten Dunst), troubled friends Jane (Amy Adams) and Old Bull Lee (Viggo Mortensen), the closet-gay Steve Buscemi, Ed (Danny Morgan) and his conveniently left-behind bride Galatea (Elisabeth Moss), the "It" jazz musician Walter (Terrence Howard) and his tolerant wife (Tetchena Bellange), et al. Alone or with Dean, Sal zigzags back and forth across the country, which is a visual treat for us, escorted by Gustavo Santaolalla's original music until he perceives "…learned as much from him (Dean) as he did from me". Too many know too little about this very influential phenomenon: On the Road is a fitting tribute to the Beat Generation and their literature.