Starts 29 November
Original language: French
 
by Thelma F.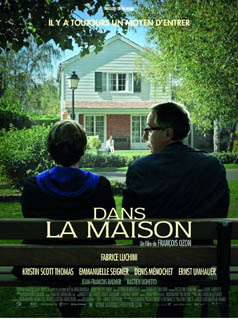 Claude (Ernst Umhauer) is a quiet 16-year-old boy who worms his way into a fellow student's home by offering to tutor him in math and then continually recounts his experiences there in writing to his French teacher Germain (Fabrice Luchini) in the form of homework assignments. Germain's wife Jeanne (Kristin Scott Thomas) is wary of the part her husband is playing as he encourages the boy to write more and more about Rapha's family, but Germain enjoys his private lessons with the talented writer so much that this sets off a series of uncontrollable events.
 
Claude comes from a broken home and chez his new friend Rapha he enjoys not only the family conviviality (Rapha Sr. and Rapha Jr. are  best friends), but also falls head over heels for Rapha's mother Esther (Emanuelle Seigner). He also seems obsessed with the fact that he is learning about typical middle class folks. Most scenes in the film are in school and this particular school takes pride in the fact that they discourage differences in social classes by requiring the kids to wear uniforms.
 
Francois Ozon's mystery thriller, which was adapted from a Spanish play, is a work of voyeurism. One is never quite sure what is reality and what is fiction. What is true is that at the beginning of the movie Germain has everything life can offer, the boy has nothing. At the end of the film it is the reverse.