Starts November 8
Original language: English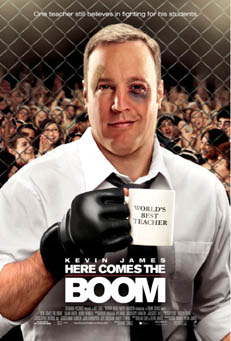 How about an inspirational movie that's not icky-sweet or soppy, but features half naked, bald men covered with tattoos? Scott Voss (Kevin James) teaches biology in a Massachusetts high school. He is a bit overweight, middle-aged, kind of stressed out, and has lost his motivation and vision to teach effectively. He oversleeps and sneaks into class late. He has no luck in dogged attempts to date school nurse Bella (Salma Hayek). Suddenly, there is a crisis: the music department will shut down because the budget no longer provides the necessary 48,000 dollars in costs. That means good-bye to dedicated music teacher Marty Streb (Harry Winkler), good-bye to music instruments and orchestra practice for fifty music-loving students.
What to do? Car washes and bake sales bring in peanuts. There has to be a better solution and Scott has the answer. He remembers that he "liked wrestling when he was in high school" and why not fight mixed martial arts, a combination of boxing, kickboxing, karate jiu-jitsu, judo, wrestling and Muay Thai in a cage against professionals? The loser takes home ten thousand dollars a pop. Five losses and he'll have the cash, no matter if it leaves him in any condition to enjoy it. Scott, who teaches immigration classes in the evenings, gets training from Niko a Dutch immigrant (played by Bas Rutten, a character based on Rutten's real career) and a real-life-trainer: Mark DellaGrotte.
You have already guessed the ending, because naturally, sooner or later he has to win and it's the road to that winning which is so much fun. It makes you want to stand up in your seat and shout, "Give it to him again, this time harder." You say you are "against violence and wouldn't shout for more blood to flow." This time you might. (And, since I'm writing for residents of Hamburg, just admit that, in spite of personal anti-violence commitments, you have sneaked a peek at the Klitschko brothers during one of their televised boxing matches.)
The Filipina student Malia (Charice) is inspirational, as she teaches Niko to study for his immigration test. Even Friedrich Nietzsche is inspirational: he keeps getting quoted for "without music life would be a mistake." Just once does director Frank Coraci take the inspirational part too far, in a scene where the athletes clasp hands in prayer before a match, but this is America after all, and, groan, the last 30 seconds show the American flag flying – quite unnecessary for European viewers. I highly recommend this film for anyone working with kids, whether parents, teachers or kids themselves, or anyone who just wants to watch a fun film made in Boston and Quincy, Massachusetts.