Starts November 8
Original language: French
by Shelly S.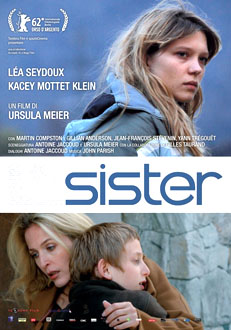 Growing up in a region where ski areas are prominent and cater to the rich during the winter season, I have seen people scratching at the surface to make ends meet during the off season since the money dries up as the snow melts away. In this Swiss drama we see the young boy Simon (Kacey Mottet Klien) using creatively entrepreneur skills to make extra money during the ski season. At age twelve he is a master thief, stealing about anything that he can later resell for extra money. After he obtains a ski pass to the top of the mountain, it looks like everything is going uphill. Simon's biggest concern is his older sister who is unfocused, can't keep a job and is jumping from one boyfriend to the next. This award-winning film digs deep into the relationship between Simon and Louise (Lea Seydoux) where their future is filled with uncertainty.  It is a wonderful and sensitive film seen through this young boy's eyes who really only wants love and a normal home to live in despite the fact that his life is moving him down the wrong slope.
Director: Ursula Meier


Second Opinion by Becky T.

Simon lives in a high-rise apartment with Louise, his young, single "sister." The house nestles in a valley in the Alps near a popular ski resort. The rich tourists ride up the cable cars and ski back down, relax on the sun-filled slopes, eat, drink and live it up. Simon stealthily comes and goes among these wealthy people. He scrambles for food to eat and searches for skis to steal to sell for a good price. He lives hand-to-mouth with Louise. She has less responsibility than even a sister would, entertaining her boy friends and living her own life with no regard for the welfare or the daily activities of Simon, just twelve years old. He is a real survivor, tough, but vulnerable, alone and hopeful for just a small sign of love from this woman.
Sister played in competition at the 2012 Berlinale. It features gorgeous shots of the mountains; the scenery is majestic, huge with just one small boy a black dot on the snow. I was reminded of Oliver Twist trying to survive in a cold and abrasive world. The music is superfluous; I often wonder why films underline the plot with music that goes plink, plunk, plink. Why not just forget the music if nothing can keep pace with the photography; let us enjoy the scenery without unnecessary, meaningless tunes. Director Ursula Meier is French/Swiss and this is her second, full-length, feature film. Kacey Mottet Klein is an excellent Simon whom you won't forget very soon; he carries the film forward.