Starts December 6
Original language: Turkish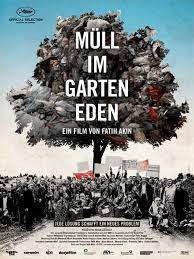 The film starts with showing "paradise". The camera sweeps over a sea of lush green tea bushes. The picturesque village Camburnu nestles in the hilly landscape of north-east Turkey, near the Black Sea. When Hamburg-born Fatih Akin filmed the last scenes of his film The Edge of Heaven in the small mountain village, which is also the home of his grandfather, he heard that a deserted open copper mine near by was going to be used as a garbage depot. Previously all refuse from the cities of Trabzon and Rize was just thrown into the Black Sea. Now the government had decided to keep the Black Sea clean and look for a different dump. Despite repeated protests by the mayor to the officials in Ankara, the waste disposal facility has been built above the village without complying with the most essential security and building standards. "Our village is being sacrificed," he says helplessly.
Huge trucks with tons of garbage arrive, dumping their load into a primitively prepared depot where it is rotting away. An unbearable stench lies over the village. Dogs and other animals are scavenging through the debris. The seasonal rains swamp the area, polluting the village's water supply. The villagers are up in arms, forming angry groups of demonstrators. Despite persisting resistance, more refuse is being dumped. At last government officials arrive in their big cars, look at the mess, at the bubbling foam of poisoned water seeping from pipes. "It's the rain causing it. Nothing can be done," is their non-committal comment. They look at the grey sky and shrug their shoulders. Casually, the chauffeur pushes the complaining crowd aside – and off they are, back to town and their smart offices.
For generations this small community of 1,700 inhabitants lived off tea cultivation and fishing. They were in harmony with their surrounding nature. But the government's decision is now threatening their "paradise". Lawyers from the village fight this environmental scandal in court, the local people keep on demonstrating and a handful of women block the bulldozer's access to the site. They are the heroes of the day. One can so well understand the anger and frustration of the old women lamenting and the young folks wanting to leave for the city.
It is a very personal film by the Turkish-German filmmaker Fatih Akin, reflecting village life away from the big cities. He shows the struggle and courage of a small community against an overwhelming officialdom, hoping that his involvement may influence a positive outcome. The documentary was invited to the Cannes Film Festival 2012 where it was screened in the section "out of competition".