½
Starts December 26
Original language: English
by Christa G.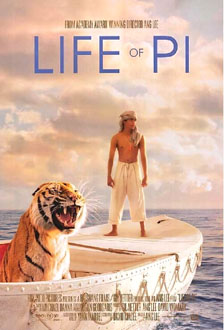 Director Ang Lee's newest film is a 3D adventure of a special kind – a two-hour movie based on a book many considered unfilmable! The book is Yann Martel's bestselling and award-winning Life of Pi, which tells the story of Piscine Molitor Patel, called "Pi". Pi is a boy from India, who survives a shipwreck alone in a lifeboat on the Pacific Ocean. Well, not exactly alone, as he shares boat, food and water with Richard Parker, a magnificent Bengal tiger.
A zoo director's son, our shipwrecked hero knows quite well that the tiger is not his friend,
but an animal that might kill him. Still Pi cannot bring himself to let Richard Parker drown when he has the opportunity. Instead, he helps the Bengal tiger to climb back aboard the boat, where man and tiger fight for survival, dominance and the access to food and water supplies. Drawing on his knowledge of animal training, Pi tries to train Richard Parker and manages to establish some kind of communication with the seasick, hungry and frightened animal. When they finally stop fighting each other, both have a better chance at survival. As readers of the book will remember, this is not the only version of Pi's story. In fact, quite a different alternative story is revealed in the end, and it's up to the viewers to decide which story they want to believe.
The central part of the movie might easily have turned out like a filmed theater play for one actor and one tiger. (As both Suraj Sharma as shipwrecked Pi and Richard Parker as himself deliver memorable performances, this might not even have been a bad thing.) Thanks to the beautiful, impressive 3D images, though, the viewers almost feel like being in the middle of the ocean themselves (but with the added benefit of not getting seasick and having enough to eat). While it may or may not be a story which "will make you believe in God", The Life of Pi is definitely both a film to enjoy and food for thought.
Writing Credits:  David Magee–screenplay, Yann Martel–novel
Principal Actors: Suraj Sharma, Irrfan Khan, Adil Hussain