½
USA 2013
Starts April 25, 2013
Directed by: Steven Soderbergh
Writing credits: Scott Z. Burns
Cast: Rooney Mara, Channing Tatum, Jude Law, Ann Dowd, Polly Draper, Michael Nathanson
Length: 106 minutes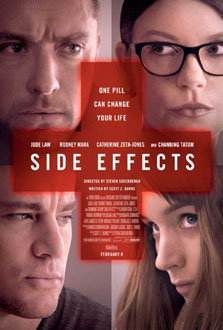 Double entendre – risqué ambiguity – permeates Side Effects: The title, the multidirectional script and multifaceted characters (Scott Z. Burns), the foreboding music (Thomas Newman), the scintillating camera and cool editing (Soderbergh). The opening establishing shot zooms in and through a window onto a crime scene, and at films end pulls out from another pertinent window's dismal setting. Steven Soderbergh's sophisticated psychological thriller, rife with disquieting subtleties, on the surface may seem a quiet film—far from that.
Rewinding three-months from the opening sequence, broker Martin Taylor's (Tatum) release from prison brings relief, and intensified anxiety for his wife's fragile mental state. Emily (Mara) is unsure she is capable to reenter the moneyed high-stakes lifestyle they left behind when, to financially survive she moved to work in New York City. Following Emily's iffy car accident, a consultation with the hospital's on-duty psychiatrist Dr. Jonathan Banks (Law) evolves to regular appointments. Martin and mom (Dowd) are supportive; Emily agrees to Banks' contacting the psychiatrist she saw in Connecticut after Martin's arrest; concerned, Dr. Victoria Siebert (Zeta-Jones) is forthcoming. Attempting to stabilize Emily's condition, Dr Banks prescribes psychotropic medications that produce devious results. Plot intricacies lead us into a labyrinth of subterfuge resolved only through Banks' clever counter-offensive.
The beauty here is understatement fuels suspenseful dread; without missing a beat, the corkscrewing plot and characters—excellently portrayed with restraint by these seasoned thespians—keep us off keel. We are never quite sure where we are being led until the camera pulls out at film's end, when all the pieces fall into place. Supposedly protean director Steven Soderbergh's cinema swan song – albeit he will direct for theatre, TV series, etc. – the finesse and intellectual delivery could, I imagine, make this a "must see" for future film students. With pharmaceutical companies, drugs prescription, lobbyists, and lawyers rampant, the film's ethical questions argue for dialogue exchange to boot. (Marinell H.)

Great house, fancy cars, beautiful clothes and lots of champagne set the scene for a police raid to arrest Martin (Tatum). He is convicted of insider trading and sent to prison. His wife Emily (Mara), who only knew the good life Martin provided, is so steeped in depression that even Martin's imminent release does not seem to improve her mental state. She goes to psychiatrist Jonathan Banks (Law) for help and explains that all the usual drugs like Zoloft or Paxil have not enabled her to relax or sleep.
Dr. Banks partners in a lucrative practice but needs to make much more money because his wife lost her executive job, endangering their lavish lifestyle. He decides to enroll Emily in a drug trial to earn a big cash bonus. Emily is anxious to try anything and while taking the new drug, ignores the apparent side effect of sleepwalking. For instance, she prepares breakfast in the middle of the night but in the morning has no idea of her actions. While preparing a nice meal, her husband comes home, enters the kitchen and she greets him with a knife, stabbing him several times. Apparently, while asleep. She later wakes up and finds Martin dead.
Now Dr. Banks loses everything – his reputation, his practice, his wife. To clear his name and get his life back, he searches for answers. Did he cause Martin's death by not fully understanding the side effects of the new drug? His investigation leads to a stunning revelation and he must concoct his own insider deal to clear his name. There are lots of twists in the concluding scenes but no need for Zoloft to quell anxious audience members. The neat fairytale ending makes for a nice bedtime story.
Berlinale 2013 Press Conference: About ten years ago, Scott Burns began his research for a new project at Bellevue, a mental hospital that is now closed, in New York. He was thrilled to work with the cast and crew. Steven Soderbergh liked the transference of guilt from one character to another, something that Alfred Hitchcock did very well. He liked the idea of making a thriller in the twilight of his career or before his break, or whatever. The actors felt it was very easy to make the film thanks to Burns and Soderbergh. Trivia: Steven Soderbergh did not confirm this is the last film he will direct.