Germany 2012
Starts April 18
Directed by: André Erkau
Writing credits: Gernot Gricksch
Cast: Wotan Wilke Möhring, Helen Woigk, Christine Schorn, Rosalie Thomass, Frederick Lau
Length: 98 minutes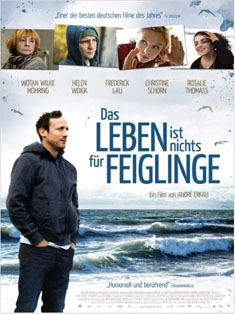 After the sudden death of his wife Markus Färber (Möhring) is thrown into an emotional chaos but tries to return to a normal routine. He starts tidying the house and makes breakfast for his teenage daughter. She ignores her father, rebels against anything and anybody. There is no way Kim (Woigk) will just continue as if nothing has happened. Hidden in her darkened room she types SMS messages to her dead mother, trying to preserve the memory, unable to accept the loss.
Granny Gerlinde (Schorn) is diagnosed with cancer of the colon. She pretends to go away on a sightseeing tour in order not to add to the family's burden. Meanwhile she is only streets away in her own apartment, being looked after by a competent and cheerful nurse (Thomass) who actually wants to be an actress. Despite Gerlinde's illness they make a jolly pair, especially when Paula dishes out Happy Hash cookies to ease the pain.
Daughter Kim, always dressed in dark Gothic style, visits the cemetery at night with Heavy Metal music plugged into her ear. She catches the attention of Alex (Lau), an outsider having dropped out of school, hating his parents and society on the whole. The two lonely youngsters feel drawn to each other and decide to run away. With a stolen car they drive up the coast to Denmark. The alarmed father Markus desperately moves into action. With granny tucked into blankets on the backseat of his car and the inventive Paula helping to navigate, they start a frantic search for Kim.
Each one of the cast plays on a full scale of emotions from pain and sorrow to resignation hidden behind flippant remarks. The insecurity and helplessness of the teenage daughter is sensitively portrayed by the newcomer Helen Woigks. Christine Schorns and Rosalie Thomass work well together as an unconventionally funny team, and Wotan Wilke Möhring is an authentic grief-stricken, confused husband/single father. All three protagonists – representing three generations – handle the loss of a loved one differently. But in the end, they are able to find strength and solace in each other.
Director André Erkau's bitter-sweet tragic comedy is based on a novel by Gernot Gricksch who also wrote the script. Themes like death, illness and adolescence are treated seriously but with optimism, showing the comical side even in difficult situations. (Birgit S.)