UK 2012
Starts April 4
Directed by: Richard LaGravenese
Writing credits: Richard LaGravenese, Kami Garcia, Margaret Stohl
Cast: Alden Ehrenreich, Alice Englert, Jeremy Irons, Emma Thompson, Viola Davis, Emmy Rossum
Length: 124 minutes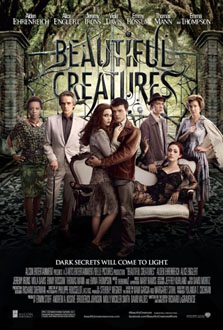 Beautiful Creatures is the tale of Ethan Wate (Ehrenreich), a well-read teenage boy from a backwater town in South Carolina. He has been haunted for months with the same reoccurring dream of a mysterious girl in the middle of a civil war battlefield. When a similarly mysterious girl Lena (Englert) transfers to his high school and extraordinary events begin to occur, Ethan is drawn into a series of events that turn his life upside down.

Ignore the above description, for it makes the movie sound like it may actually be good. In actuality, the movie is this: Ethan Wate is a conceited teenage boy who considers himself much better than all of the other people who live in his town. These Southern townspeople are portrayed stereotypically as overly-religious, dumb, and obsessed with the Civil War (as all Southerners are, of course.) When a new girl comes to town, he falls in love with her almost immediately, and their love turns out to be destined because of some mess their relations made during the Civil War. Thankfully, the one black woman (Davis) in the town knows magic, too, and can help them by speaking to her family's spirits by coercing them with fried chicken and grits. With the help of Lena's uncle (played by the under-utilized Irons), nothing really gets done except a lot of angst-filled teenage drama and a pointless monologue by Thompson. Eventually, the film climaxes with the main characters achieving none of their goals and a huge massacre of townspeople that is never alluded to again (though that's okay because they were zealots anyways.) Luckily, in the end, true love conquers not quite all, but at least a little bit of the problem.
It's hard to pinpoint exactly where Beautiful Creatures went wrong, because there are so many problems in this film. It may have been the instant-love romance between the two main characters, the clichés, the overly contrived plot, or maybe all of the unexplained back story. While, for a time, the action was propelled by curiosity over Lena's mysterious family and the reoccurring dream, this quickly goes from compelling to extremely boring as it becomes clear that the film was just going to reuse the same old clichéd plot points that have been used in every other supernatural romance for the last few years. Evil curse that pointlessly is passed on through generations because one family member made a stupid mistake for love? Check. Evil character with seemingly no real motivation other than being the bad guy? Check. Love mysteriously overcomes set-in-stone magical rules without any explanation? Check. These are just some of the plethora of examples available. In fact, I could probably fill a book with them... oh wait, I don't have to. Kami Garcia and Margaret Stohl already did -- it was called Beautiful Creatures.
This may be yet another case of quite a lot being lost on the editing floor, or maybe just a poor adapted screenplay, but regardless, there is not enough meat in this film to make it worthwhile. To be honest, I suggest not spending any time with this movie unless you are under the age of 18 or are a fan of the book. There are far better ways to spend your money and your time than wasting it with this meandering tale of undeveloped teenage angst and romance. (Rose F.)