½
UK 2012
Starts May 9, 2013
Directed by: Jon Brewer
Writing credits: Documentary
Cast: B.B. King, Morgan Freeman, Bruce Willis, Carlos Santana, Eric Clapton, Bono, Ron Wood, Bonnie Raitt, Bobby Bland, Derek Trucks, Ringo Starr, Dr. John, John Mayall, Buddy Guy, Leon Russel, Joe Walsh, Bill Wyman
Length: 119 minutes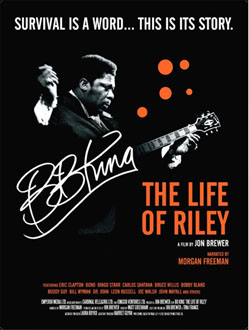 As an idiom, the life of Riley means to have an easy, carefree life—Riley B. King's life started out far from carefree, and at 85 B.B. King is still touring, albeit three weeks on / three off. Born September 16, 1925, on a cotton plantation near Indianola, Mississippi, his parents' cabin walls had gaps wide enough to look through and tell the time of day. Following his mother's early death from diabetes, Riley lived with his maternal grandmother; he sang gospel at the Elkhorn Baptist Church, and first heard blues music listening to a great-Aunt's phonographic records. Working in the fields, leastways he could sing blues, since the community's devout considered blues the devil's music. At 14 Riley's grandmother died so he went to live with his dad, but, missing the Delta lifestyle 50-miles away, he returned via his bicycle.
Gravitating to Memphis, Tennessee, in 1948 he landed a DJ spot on a black-staffed radio station. His show was so popular he needed a moniker, hence B.B. (Blues Boy); he gave up the DJ job with his first hit, "3 O'Clock Blues." Touring the "chitlin circuit" in a bus he bought—the band kept food on board since "coloreds" were not served everywhere—they played an impressive 342 one-night stands in 1956. The road was this guitarist's home, two marriages the price, his powerful affinity with audiences—hearing him in Orlando, Florida, years ago is locked in my memory—and eternal influence on music his reward.
B.B.'s unique electric guitar sound—mixing traditional blues, jazz, pop, swing, and jump blues—inspired countless musicians. During the 1960s contemporary rock artists, notably European, introduced him to young, white audiences, and "B." opened for the Rolling Stones. In the 1980s B.B. was inducted into the Blues Foundation Hall of Fame, the Rock and Roll Hall of Fame, and received NARAS' (National Academy of Recording Arts and Sciences) Lifetime Achievement Grammy Award. The recipient of honorary doctorates from at least six colleges and universities, King has met Kings, Presidents, and a Pope, toured on at least three continents, made cameo appearances on TV, is a philanthropist and a spokesperson on behalf of the fight against diabetes. In 2008 the B.B. King Museum and Delta Interpretive Center opened in Indianola, Mississippi.
Spanning decades, this intimate and fascinating portrait is also a societal history lesson. Morgan Freeman narrates, "Survival is a word, this is a story," and King's straight talking—who he borrowed from, segregation, his personality-shapers—is peppered with insightful commentary from other renowned musicians—"one note … you know it's him …it's coming from the center of his heart." To quote Bono, "B.B. is a lesson in grace." (Marinell H.)