USA | Greece 2013
Starts June 6, 2013
Directed by: Richard Linklater
Writing credits: Richard Linklater, Ethan Hawke, Julie Delpy
Cast: Ethan Hawke, Julie Delpy, Seamus Davey-Fitzpatrick
Length: 108 minutes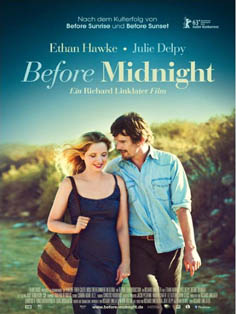 This romantic drama shows one day in the life of Jesse (Hawke) and Céline (Delpy) who fell in love 18 years before in Vienna in Before Sunrise and came together in Paris nine years later in Before Sunset. Now they are spending a vacation in Greece. Again, the story is told almost in real time. It begins with Jesse taking his son from his previous marriage to the airport and goes on while Jesse and Céline get into a conversation on their way back from the airport. They now have twins, Jesse is writing another book and Céline is thinking about working for the government. Their summer home is a writer's retreat where they share a lunch with other guests and friends. While the conversation goes on, the people present throw in their ideas about love, sex and relationships: do soul mates exist? Is the idea of everlasting love still valid? Is the hunger for life more important than passionate love? Jesse and Céline continue to explore these questions concerning their own relationship while they walk to a hotel in which they are going to spend the night without their kids. It is now that the question they have been circling this whole day becomes unavoidable: Are they still happy with each other?
In order to find that answer, they accuse each other and fight in a way that feels very "real." Jesse wants to have a "rational" conversation with Céline, who, in turn, appears to be moody and not to know what she really wants.
I was a romantic 16-year-old when I first saw Before Sunrise. And in spite of "life," I could still believe in a real connection between people in Before Sunset at 24. In Before Midnight I was expecting to see this connection mature despite some issues. But while Céline accuses Jesse of still being a teenager, she is just about the same.
People are not perfect and true love is no fairytale. I totally agree. Yet, I refuse to believe the model of fighting, making up and not really talking is just "reality." So what I liked most about this movie is to see my own reaction towards the characters in the course of 18 years and to realize that fortunately, there are other contemporary movies like Take This Waltz dealing with the impact of time on a relationship in a more responsible and mature way. (Katia T.)

Jesse (Hawke) and Céline (Delpy) met eighteen yeas ago on a train to Vienna. They spent the night together walking and talking throughout the film entitled Before Sunrise (1995). At sunrise, they parted on the train platform and planned to meet again, which they did in Before Sunset (2004). That time, they were in Paris and they spent the day discussing their unhappy relationships with the film ending on a bit of a pregnant pause – would they have a happy relationship together? Well, Before Midnight begins at the airport with Jessie saying goodbye to his teenage son. Then you see him and Céline with two sleeping children in the back seat of the car. They are staying with some friends in Greece who have given them a weekend in a hotel on their own. They walk to the hotel but have difficulty relaxing with one another in their room, so they walk around town, talking and talking. Personally, I found the discussions in this third film more exasperating and irritating than entertaining, but strangely enough, I just wanted to keep listening in on the conversation to learn how it all turned out. And, Jessie and Céline never stop to breathe so there is no place to stop listening! If you have followed Jessie and Céline form Vienna to Paris, you will want to accompany them to Greece and on to their next destination as well. They are simply entertaining.
Trivia: Ethan Hawke met Julie Delpy for the first time for filming Before Sunrise.
Third Opinion by Rose F.:

Before Midnight is a film that struggles to find its purpose. It is the logical happy-ending conclusion to Before Sunset (2004).
Céline and Jesse find a way to stay together; he divorces his wife and they now are both successful, living in Europe with two beautiful daughters. However, no one wants to watch a feature-length film about two people being happy, so there has to be a conflict that arises, but unfortunately in this case it feels rather forced. This conflict is essentially that Jesse feels disconnected from his son who lives in the States and he is considering moving there to be closer to him, but Céline wants to take a job opportunity that would require her to stay in Europe. In a normal relationship this would be a fight or a serious discussion that would require both partners to really have to work to make compromises. In the Before world, this means making Céline's character act irrational and start a huge fight.
This is frustrating, not so much because it is unrealistic (who hasn't started an irrational fight with their partner?), but rather that it allows the characters to fall into stereotypical gender roles. There is a point where Céline asks the no-win question to Jesse about whether, if they had met for the first time now, he would still be attracted to her. On their special night together at a hotel room, she stomps out of the room a few times, slams the door, and tells him they should break up. Meanwhile, Jesse is relatively calm, rational and sweet, even going so far as to write a silly letter to make Céline feel better. This unfortunately places the characters into the normal hysterical woman versus rational man trope. This trope is characterized by portraying women as "less rational, disciplined, and emotionally stable than men, and thus more prone to mood swings (and) irrational overreactions…as a result female characters may be coddled." Indeed, Céline must be coddled by Jesse who reminds her of all the reasons they are together and why they should stay together. In the end, he is the one who brings rationality back to the conversation and allows them to continue together as a couple.
Reinforcing the male and female gender roles is not just an issue on the level of promoting a form of sexism, but it is also a problem for the filmmaker who is trying to make his characters connect with the audience. While there were moments of the film that were enjoyable, I was constantly annoyed by the character of Céline and I kept wondering why Jesse was still with this incredibly irrational woman. As these film are marketed primarily to a female audience, alienating them by making the male the rational one and the female completely irrational, not only reinforces negative stereotypes within the audiences' minds, but also can serve to make the film less enjoyable.